| | |
| --- | --- |
| Do you have a promotional code ? | |
Your paid subscription to CTR gets you inside the world's largest and most up-to-date online repository of reviews of children's interactive products (educational software, apps, video games, gadgets and hardware).
CTREX is the solution to those tired of online review anarchy.
WHAT SUBSCRIBERS GET
11,607 reviews (as of November 20, 2014) with real time sorting and browsing tools.

Keyword searching, plus age, grade, curriculum (common core tags), publisher and platform, with additional custom parameters, and a "deep search" box, for finding obscure or historical information.

Dated and authored reviews. We understand that reviews are time sensitive, so we date stamp create and editing events.

The ability to leave comments or make corrections. We believe "a review is the start of a conversation." Subscribers and publishers can leave comments and agree or disagree with our reviews.

Common Core keywords tags. Because we're teachers, we've been curriculum-tagging products for 21 years with school friendly keywords.

Custom lists for specific settings, like early childhood centers or libraries. College game design classes will like this listing of 151 "pioneers" for example.


More than apps. We test tablet cases, games, Internet sites, virtual worlds, smart toys and Chromebooks.

Direct links. We don't side-track you with purchase links. We're not a catalog.

A teacher's voice. Our reviewers have classroom experience, plus reliability training on a rubric to insure that comparisons are accurate. The goal is to give them the voice of CTR's theoretical mascot, called the "Picky Teacher." She rewards products that empower children, and foster active learning with higher ratings and her opinion is not for sale. This is why we think that CTR reviews tend to have higher levels of validity.

Universal. CTREX runs on any browser with standard Internet speeds.

A work in progress. There is no such thing as a perfect rating system. Watch for more new features in the future, and tell us what you want.
WHAT YOU WON'T FIND
Children's Technology Review is 100% subscriber funded to avoid obvious conflicts of interest.
No affiliate links. Unlike other review sites, we don't make a percentage of the sale when you click on one of our links.

No panhandling. Once you're a subscriber, you're in. We don't try to upsell you on additional products or services, or nudge you to give us a contribution.
TAKE A TEST DRIVE
Here's a copy of Children's Technology Review as a monthly magazine (in PDF form)
CTR Weekly. Sent every Wednesday morning.
COSTS
$8/month (4 weeklies plus one issue); $39/6 months (24 weeklies plus six issues); $59/year (52 weeklies plus 12 issues) and $99/2 years (104 weeklies plus 24 issues). We don't use recurring renewals, don't sell your subscriber information, and offer a money back guarantee.
Call about site licenses and student discounts
SPECIAL OFFER
We're happy to welcome you back with a special price. Enter the code "priorsub" on the form, you can get to our discount checkout form. You'll get one year for just $29 (normally $59).  Enter your code here
It's often said "you get what you pay for." We think that holds true for children's review sites.
Let me know if you have any questions.
Sincerely yours,
Warren Buckleitner, Ph.D., Editor
If you're a new subscriber, use the code on this coupon: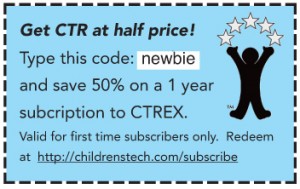 Doing a workshop on children and technology, and want to help us spread the word? Download the one page PDF of our subscription form.
Thank you for supporting our work!