Children's Technology Review Subscription Options:
Electronic
$30/year

12 PDF issues

+ Review database

$30 Subscription Details – What you'll get, and when you'll get it:
You'll get 12 PDF issues (one per month) plus database access and back issues. Your fee includes access to all reviews dating back to 1985. The database makes it easy to search by curriculum area (we use an educational tagging system), platform, rating and grade. So you can zoom in on just the products you're looking for. Want the Top 100 iPad products for reading? You're just a few clicks away.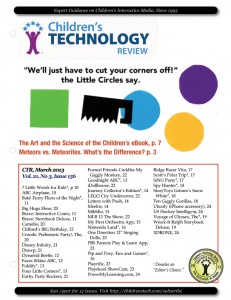 Your subscription year will start immediately with the current issue. You will get an instant access password with your receipt, allowing you to log in, and download the current issue. We do not use instant renewals. You will be sent a renewal notice one month prior to the expiration of your subscription.

Other options for professionals and  libraries:
$120 (US) and $144 (Canada/Mexico) Print Subscription Details: You'll get 12 PDF issues, database access and back issues, plus printed versions and an annual index. US subscribers will also receive a customized three-ring binder for storing issues (Canada/Mexico subscriptions no longer include the binder due to shipping costs and postal restrictions). Please note, the print option is not available internationally. Issues are printed on quality recycled three-hole paper stock. Your index is included with your December issue each year. This is ideal for professionals or libraries.
For USA, use this button to subscribe online:
For Canada/Mexico, please use this button:
Site Licenses can be created for a password-free, customized portal webpage link to post on your site, allowing your users (students, faculty, patrons, employees) full access into our site. Prices are based on FTE size (the number of full-time students/staff/patrons who have Internet access) as follows:
FTE Size                                    Electronic Only                                    Print & Electronic
Below 10 FTE:                                  $160                                                        $210
10 – 99 FTE:                                     $185                                                        $235
100 – 999 FTE:                                 $210                                                        $260
1000 – 2,999 FTE:                            $235                                                        $285
3,000 – 10,999 FTE:                         $260                                                        $310
11,000 – 25,000 FTE:                       $335                                                        $385
Over 25,000 FTE:                             $435                                                        $485
For more information or to set up your site license, please contact us at 800-993-9499.
---
If you need to place an order the traditional way, you can use the PDF order form.
Questions? Please call us at 800-993-9499 (9-3:30 PM EST) or send an email to our circulation manager, Lisa DellaFave (lisa@childrenstech.com)
Thank you for supporting our work!