A Recognition of the World's Best Digital Publishing for Children

The deadline for entering is was January 31 of the next year.  Read about the award.
GENERAL BACKGROUND: New technologies have given children's storytellers innovative ways to practice their craft.  The BolognaRagazzi Digital Award was established to identify excellence in an emerging category of exciting products. From 1997 to 2002,  the Bologna Children's Book Fair and Children's Technology Review collaborated to coordinate the Bologna New Media Prize. In 2012, the prize was modernized with a new jury and a sharper focus on "narrative driven interactive media." This is in an effort to recog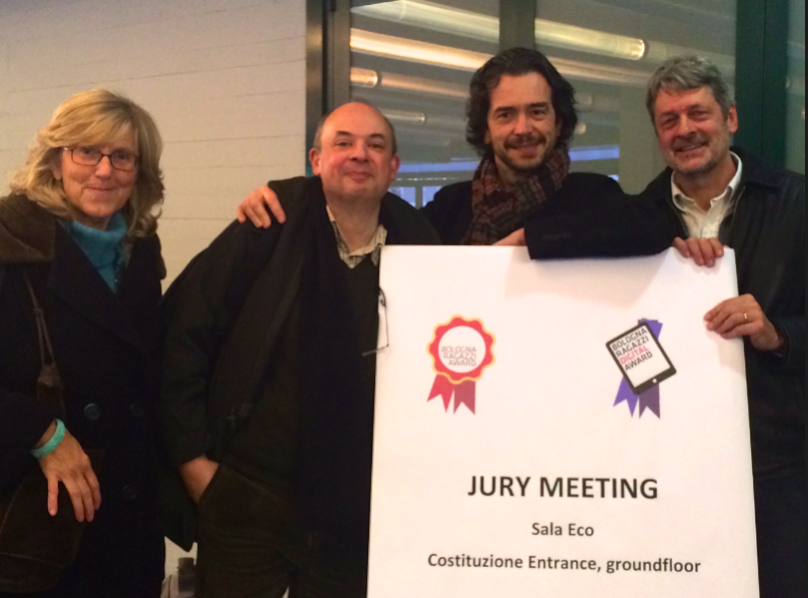 nize and encourage excellence and innovation in the category of children's digital publishing on a global level. The contest is called the BolognaRagazzi Digital Award, and it is now integrated with the BolognaRagazzi prize for printed books. It is free, and open to any publisher.
The annual  initiative is a comprehensive worldwide search for the state of the art in design and craftsmanship when it comes to narrative driven children's interactive media.
WHO CAN APPLY? The award is open to all publishers and developers of apps made for children between the ages of  2 and 15 years old.
HOW DO I REGISTER? Here is the entry form.
IS THERE A COST TO ENTER?  No.
WHAT TYPES OF PRODUCTS ARE YOU LOOKING FOR? Apps or other forms of interactive media related in some way to to children's books (adaptions of, or inspired from). They must be current, published within the past year, up to the deadline.
WHO WILL CHOOSE THE WINNER?  A jury of international experts in digital media and illustration who meet in person, prior to the Bologna Children's Book Fair, to debate and choose the winner. The winner will be announced on the first day of the fair, which takes place in Bologna, Italy. With the exception of the chair, three of the jurors serve 3 year terms.
ABOUT THE BOLOGNA CHILDREN'S BOOK FAIR
The Bologna Children's Book Fair is the most important international event dedicated to the children's publishing industry. In Bologna, authors, illustrators, literary agents, licensors and licensees, packagers, distributors, printers, booksellers, and librarians meet to sell and buy copyright, find the very best of children's publishing and interactive media production, generate and gather new contacts while strengthening professional relationships, discover new business opportunities, and discuss and debate the latest sector trends. The fair attracted 1200 exhibitors coming from 66 countries and 5000 international professional trade representatives.. The Fair offers more than 20.000 square meters (about 215.000 square feet) of exhibition space with a simple and easy-to-understand layout.
For further information:
Bologna Children's Book Fair – Piazza Costituzione, 6 – 40128 Bologna
Tel. 39 051-282242/282361 – Fax 39 051 6374011
E-mail: bookfair@bolognafiere.it