Bugs and Bubbles, $2.99, by Little Bit Studio, LLC http://itunes.apple.com/app/bugs-and-bubbles/id500195730?ls=1&mt=8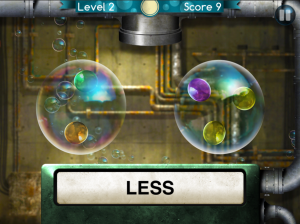 Fun, fast and good for building emerging math skills, Bugs and Bubbles is the second app we've reviewed from Little Bit Studio. The first, also excellent, was Bugs and Buttons (CTR Feb 12). This app contains 18 leveled sorting, classification games set in Uncle Bob's Bubble Factory. Your goal is to collect stickers by harvesting bubbles. This requires a lot of low level math skill application, including counting, sorting, remembering patterns — all concepts that have been part of educational software in the past. But never so beautifully and elegantly. The activities are designed so children drive the action, and the better you do, the greater the challenge. Because there are 18 games and 36 achievement stickers to collect, this app offers a lot to do for the money. You can also manage multiple player profiles, as long as you have "Profiles" turned on in your iOS settings. This lets you save a child's progress on a remote server ("the cloud") so he or she can continue playing on another device (as long as both devices are synced to the same account).
The aesthetics of this app should be noted. Each activity has a different musical background, and the graphics are beautiful, without sacrificing responsivity.  We don't hand out too many five star ratings, but this app has the right mix of fun, learning, and intelligent artificial intelligence that is rare and hard to create. For ages 3-up.