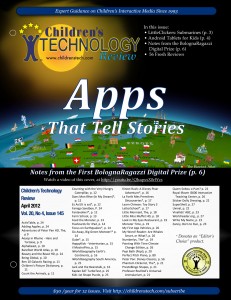 It's been a busy month in children's interactive media…
…so let me quickly bring you up to date.
Want to see the best eBook in the world? The three BolognaRagazzi Digital Prize winners were announced this month. But there were many important lessons about children's media lurking in the 252 entries, described in detail on page 6. You can also watch the winners (YouTube http://youtu.be/QJuqwsX0rWc)
The "new" iPad doesn't seem all that new according to our test at http://youtu.be/7WNUZepfu3A. It's slightly heavier, warmer and the cameras are brighter and  smarter. The voice input option is handy, letting you talk as well as type.  But the apps we tested performed similarly, with the exception of The Numberlys, which loaded a few seconds slower on the older iPad.
A pack of Android tablets is headed your way, with iPad-like multi-touch features and prices as low as $130. See a quick summary at http://nyti.ms/H07tqF; for more detail and the Children's Tablet Evaluation Instrument, see page 4.
Why does the iPad have so much appeal to a young child? That's the question that led me to a talk called "Ten Affordances of Multi-Touch" given at the EETC conference in Utah. It is thick with demos. http://youtu.be/-9MIHbImgU8
Donahoo, Donohue & @davidkleeman have been helping us understand the NAEYC technology position statement. From his perch in Australia, Daniel Donahoo notes (http://huff.to/GUPQGz) that NAEYC's paper means the conversation about children's tech is changing from one of limits (per the American Academy of Pediatricians) to one of "let's explore it, and see what it can do," as long as it "does no harm." Read the statement at  http://bit.ly/AD2Lrl, and tune your browser to YouTube, for Chip Donohue's EETC talk, at http://youtu.be/yyA8M3xsQFc. Chip makes the words come to life.

I was outgunned as the moderator for "Babies Brains & Video Games," an interesting and at times contentious panel organized by The New America Foundation's Lisa Guernsey. It was interesting to see how different news outlets selectively quoted—often inaccurately—parts of the dialog.  Fortunately the YouTube truth can shine through, at http://bit.ly/FRPrEn
With all the buzz about deep sea exploration, we decided to hunt for submarine sites and videos, on page 3.
We hope you enjoy this issue.
W. Buckleitner, Editor
Children's Technology Review
April 2012
Vol. 20, No 4, Issue 145
ActivTable, p. 24
Adding Apples, p. 24
Adventures of Peter Pan HD, The, p 9
Aesop in Rhyme – Hare and Tortoise, p. 9
Alphabeast, p. 10
Barefoot World Atlas, p. 10
Beauty and the Beast HD, p. 24
Being Global, p. 10
Ben 10 Galactic Racing, p. 11
Children's Picture Dictionary, p. 11
Count the Animals, p. 11
Counting with the Very Hungry Caterpillar, p. 12
Dans Mon Rêve (In My Dream)*, p. 12
Es Así (It is so)*, p. 12
Famigo Sandbox, P. 24
Fantavolieri*, p. 12
Farm School, p. 13
Feed the Monster, p. 13
Flashcards for iPad, p. 14
Focus on Earthquakes*, p. 14
Go Away, Big Green Monster!* p. 14
Gube*, p. 15
HappyKids – Veterinarian, p. 15
il MostroPino, p. 15
iWorldGeography Earth's Continents, p. 16
iWorldGeography South America, p. 25
Jack and the Beanstalk, p. 16
Kaplan SAT TurboTest, p. 25
Kids 1st Shape Puzzle, p. 25
Kinect Rush: A Disney Pixar Adventure*, p. 16
La Forêt Mes Premières Découvertes*, p. 17
Learn Chinese: Toy Story 3
LetterSchool*, p. 17
Little Mermaid, The, p. 18
Little Miss Muffet HD, p. 18
Look in My Eyes Restaurant, p. 19
Monster Time, p. 19
My First App Vehicles, p. 26
My Word! Reader: Are Whales Smart, or What?, p. 26
Numberlys, The*, p. 19
Painting With Time Climate Change Edition, p. 26
Pepi Bath (Pepi), p. 20
Perfect Pitch Piano, p. 80
Peter Pan: Disney Classics, p. 56
Phantom Clickerist, The*, p. 21
PrestoBingo Shapes, p. 21
Professor Revillod's Universal Animalarium, p. 21
Quem Soltou o Pum? p. 22
Royal iRover iS600 Interactive Teaching Center, p. 26
Sticker Dolly Dressing, p. 22
SuperShell, p. 27
Uxmal, p. 22
VivaKids' ABC, p. 23
Worldreader.org., p. 27
Write My Name, p. 23
Zanny, Born to Run, p. 23