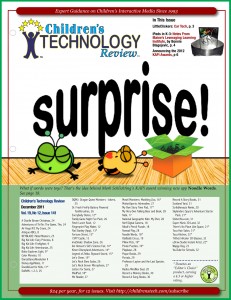 Children's Technology Review • December 2011 • Vol. 19, No 12, Issue 141
Subscribers, log in for instant access to this issue as a PDF. Not a subscriber? Get 12 pdf issues (one year) for $30, and a password for instant access to the current (and all past) issues. Subscribe now!
This issue of CTR contains reviews of 66 new apps, toys and games to keep on your rader screen, including a first look at what 13 expert jurors said were the best children's technology products of 2011. You can see the entire list on page 6. For younger children, try Mark Schlicting's NoodleWords app (on this month's cover) or zinc Roe's DoodleCast for Kids. For older children, Bobo Learns About Light is a safe download for iPad. And as we wind down one of our busiest years in history—with 643 reviews—and head into a bit of a vacation, let's all pause and remember that no technology can replace a walk around the block with a puppy and a friend, or the chance to get some snow in your boots when you tumble off a toboggan. There will never be an app for that.
Car Tech! It is now common knowledge that Google has been experimenting with driverless cars. Have a look http://bit.ly/qCB7TQ and you learn the computer guided lasers help the car map a safe route. Since it was invented, the automobile has always been the target of clever inventors, which is why it is the subject of this month's LittleClickers. If you turn to page 3, you'll find a set of sites and videos that illustrate such things as air bags exploding, in slow motion, and a car with folding wings that can fly like an airplane.
Ready or not, here comes the iPad in K-3.
When the Auburn, Maine schools announced that every Kindergartener would receive an iPad, some people had doubts. How would they be implemented? Could such an expense pay off?  These questions were debated recently during a three-day conference called the Leveraging Learning Institute. In case you weren't one of the 100 participants, don't worry. CTR contributor Bonnie Blagojevic was there, taking notes and photos, and we're lucky to get her exclusive report. Turn to page 4.
New Searching Features Unveiled  in CTR's Review Database
Are you looking for highly-rated first grade iPad math apps?  Now you can quickly generate a list, thanks to some new fields that are now live in reviews section. Available to subscribers, the popup fields let you zoom down to just what you want, from our pool of 10,232 reviews, as of this issue. Using the new pop-up menus, you can quickly mix-and match your search criteria to try different curriculum tags, platform and grade level. In addition, a new printer friendly report lets you print your listing. Let us know what you think of these new features, and please send more suggestions as we improve. Give it a try!
REVIEWS IN THIS ISSUE
A Charlie Brown Christmas, 24
Adventures of TinTin: The Game, The, 24
Air Hogs R/C Fly Crane, 24
Antique ABCs, 8
BEYBLADE: Metal Masters, 25
Big Kid Life: Fairy Princess, 8
Big Kid Life: Firefighter, 9
Big Kid Life: Veterinarian, 25
Bobo Explores Light, 9*
Color Monster, 10
DanceDanceRevolution II
Disney AppMates, 11
DoodleCast for Kids, 11*
DoReMi, 1-2-3, 25
DQM2: Dragon Quest Monsters – Jokers, 25
Dr. Fresh FireFly Battery Powered Toothbrushes, 26
Everybody Dance, 12*
Family Game Night Fun Pack, 26
Fetch Lunch Rush, 12
Fingerprint Play Maker, 12
Flat Stanley (App), 13*
Fortune Street, 13*
I SPY Castle, 13
inviZimals: Shadow Zone, 26
Jim Henson's Sid's Science Fair, 14*
Kinect Disneyland Adventures, 14*
Legend of Zelda: Skyward Sword, 15*
Let's Cheer, 15*
Let's Rock Elmo Guitar, 26
Let's Rock Grover Microphone, 27
Letters for Santa, 27
MadPad, 18*
Me Reader, 27
Moshi Monsters: Moshling Zoo, 16*
MotionSports: Adrenaline, 27
My Own Story Time Pad, 17*
My Very Own Talking Bear and Book, 28
Nabi, 17
National Geographic Kids: My Shot, 28
Nerf Digital Camera, 18
Nikoli's Pencil Puzzle, 18
Nomad Play, 28
Noodle Words, 18*
Oddballz Circus, 19
Pillow Pets, 19*
Pirate Puzzles, 19*
Playbase, 28
Popar Books, 29
Portals, 29
Professor Layton and the Last Specter, 29
Radica Mindflex Duel, 20
Record a Memory Books, 30
Record A Song Books, 30
Record A Story Books, 31
Scotland Yard, 31
Scribblenauts Remix, 20
Skylanders Spyro's Adventure Starter Pack, 21*
StickerYou.com, 31
Super Mario 3D Land, 32
There's No Place Like Space, 21*
Toca Hair Salon, 31*
Toca Kitchen, 22*
TriOviz Inficolor 3D Glasses, 32
uDraw Studio Instant Artist, 22*
Wappy Dog, 23
YouTube for Schools, 32