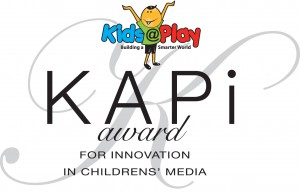 EIGHT PRODUCTS AND TWO INDIVIDUALS TO BE AWARDED THE KIDS AT PLAY INTERACTIVE "KAPi" AWARD AT CES 2012
See the complete narrative on the awards, here.
New York City, December 12, 2011 – The third annual Kids at Play Interactive – "KAPi" award winners were announced today recognizing the most innovative games, software, devices and apps for engaging, entertaining and educating today's children.  The KAPi Award ceremony will take place at the 2012 International CES in Las Vegas on January 12, at 6:00 p.m. at the Fashion Show Mall.
A jury that consisted of 13 industry and editorial experts started with 635 children's technology products released in 2011 in order to select the winners. Judges were looking for products that raise the bar for understanding of children and how they play and learn, combined with innovative use of technology and design excellence.
The KAPi Award winners are:
Children's App for Younger Children – DoodleCast by zinc Roe;
Children's App for Older Children – Bobo Explores Light by GameCollage LLC;
Children's Book App or eBook: Cinderella – Nosy Crow Animated Picture Book by Nosy Crow.
Video Game Software – Once Upon a Monster by Warner Brothers Interactive Entertainment, Inc.
Hardware – iPad 2 by Apple;
Most Innovative Technology Toy – Disney AppMates by Disney Consumer Products
Educational – Noodle Words by Noodleworks
Virtual World – MineCraft by Mojang
Emerging Pioneer – Ge Wang, Ge Wang,  Co-founder and Chief Creative Officer, Smule,  Assistant Professor, Stanford University;
Legend Pioneer – Mark Schlichting, Creator of the Brøderbund Living Books and now founder of Noodle Works. This year there will also be an acknowledgement to Steve Jobs.
The KAPi Awards are co-organized by Children's Technology Review and Living in Digital Times, the creators of the Kids@Play Summit at International CES January 10-13, 2012 – a conference and an exhibition located in the North Hall of the Las Vegas Convention Center. http://kidsatplaysummit.com/
"This year's jurors had a big job as they sorted through some impressive products," said Warren Buckleitner, Editor, Children's Technology Review. "I feel the winners accurately reflect the maturation of movement- and touch-based platforms." "We are raising a generation of always-on digital kids. From ebooks to Facebooks, the KAPi Awards recognize the best products for a new generation of digital citizens," said Robin Raskin, founder, Living in Digital Times.
The judges for this year's KAPi Awards consisted of a panel of 13 respected journalists and/or expert children's interactive media publishers who used conference calls and layers of online polling to narrow the selections. To protect the validity of the award, judges were required to recuse themselves from categories in which they had a product. In other words, they were not allowed to vote for products in which they had a vested interest, or participate in the discussion.
2012 KAPi Jurors were:
Warren Buckleitner, Editor, Children's Technology Review;
Lana Castleman, Editor Kidscreen;
Claire Green, President, Parents' Choice Foundation;
David Kleeman, President, American Center for Children and Media;
Ann M. McCormick, President and CEO, Learning Friends; Co-founder of The Learning Company;
Frank Migliorelli, Sr. Founder of Mig Idea; Faculty at NYU;
Robin Raskin, Founder, Living in Digital Times; former Editor & Publisher, Family PC Magazine;
Mark Schlichting, President, Noodleworks; creator of Broderbund's Living Books;
Carly Shuler, Joan Ganz Cooney Center at Sesame Workshop;
Andrea Smith, Producer, ABC Radio News;
Aleen Stein, CEO, Organa, Co-Founder, Voyager; President, The Criterion Collection;
Scott Traylor, President, 360KID;
Kate Wilson, Managing Director, Nosy Crow.
About Living in Digital Times
Founded in 2002 by tech journalist and consultant Robin Raskin, Living in Digital Times is designed to create a dialogue between companies and key consumer demographics via a variety of media projects in which getting smart about the digital world is fun and entertaining. In addition to the six CES-based TechZones, Living in Digital Times offers a range of services that articulate the digital experience to various constituencies.  Services include trade show planning and management, web site promotion, and consulting services. Learn more about Living in Digital Times at http://livingindigitaltimes.com
About Children's Technology Review
Since 1993, Children's Technology Review has helped parents, teachers, librarians and publishers keep up to date on the latest products, by way of independent, descriptive reviews of children's interactive media products. Subscriptions are $24/year in pdf format (12 issues), which includes database access.  The ad-free publication is available in print and electronic versions. Learn more at http://www.childrenstech.com.