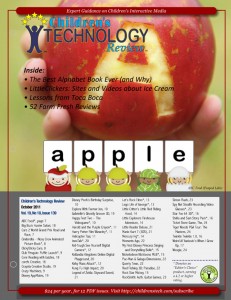 Children's Technology Review • October 2011 • Vol. 19, No 10, Issue 139
Subscribers, log in for instant access to this issue as a PDF. Not a subscriber? Fix the problem for just $24. You'll get 12 issues (one year), and a password for instant access to the current (and all past) issues. Subscribe now!

X Can Be More Than Xylophone. Finally.
Walk into any book store or library, real or virtual, and you'll see dozens of alphabet books. Each follows a similar plan—one page per letter, and the author tries to bring as much meaning as possible to that letter— also known as an abstract symbol associated with a phonemic sound. Over the years, there have been some very creative approaches to alphabet books, but somehow A is almost always something related to an Apple or an Aardvark and "X is Xylophone."   A Chicago based app publisher has thrown down the ABC book gauntlet, by leveraging the iPad's crystal clear touch screen with the ability to fetch letter-related YouTube videos. So now, X can be XO Sauce, with a movie. Finally.  See the review of Peapod's ABC Food on page 7.
Making Multi-Touch Toys: The Toca Boca Approach
When trying to figure out how to capture magic in children's apps, Swedish app publisher Toca Boca brings a refreshing new approach to children's publishing. What makes the Toca Boca special is that it came out of a 200 year old company, with a long tradition of making very traditional books. Recently, Toca Boca's CEO Björn Jeffery was in the United States when he dropped by my office for some tea. The Toca Boca story is on page 5, or you can watch the interview on YouTube http://youtu.be/PiVBVVnHtmk
LittleClickers: Online Lessons About Ice Cream
Can you name the three most common ingredients in ice cream? (Answer:  cream, sugar and eggs). OK, that was easy. But do you know why ice cream can give you a headache? Or how an ice cream recipe differs from gelato? Find the answers in this month's LittleClickers, on page 3.
Kid Tablet Wars
Don't miss the review of the $80 InnoTab on page 20, which performed significantly better than the camera equipped $100 LeapPad Explorer. Both, however, fall short of the $210 iPod Touch 4 when considering the cost of apps and responsivity.
Review in This Issue
ABC Food*, page 7
Big Buck Hunter Safari, 18
Cars 2 World Grand Prix Read and Race, 7
Cinderella – Nosy Crow Animated Picture Book*, 8
ClickySticky Cars, 8
Club Penguin: Puffle Launch*, 9
Core Reading with Jazzles, 18
corefx Creative, 18
Crayola Creative Studio, 19
Crazy Machines, 9
Disney AppMates, 19
Disney Pooh's Birthday Surprise, 10
Explore With Farmer Jon, 10
Gabrielle's Ghostly Groove 3D, 19
Happy Feet Two – The Videogame*, 10
Harold and the Purple Crayon*, 11
Harry Potter Film Wizardry*, 11
Helicopter Taxi, 11
InnoTab*, 20
Kid-Tough See Yourself Digital Camera*, 12
Kidlandia Kingdoms Online Digital Playground, 20
Kirby Mass Attack*, 12
Kung Fu High Impact, 20
Legend of Zelda: Skyward Sword, 21
Let's Rock Elmo*, 13
Lego Life of George*, 13
Little Critter's Little Red Riding Hood, 14
Little Explorers Firehouse Adventure, 14
Little Reader Deluxe, 21
Mario Kart 7 (3DS), 21
Mercury Hg*, 14
Moments Ago, 22
My First Disney Princess Singing and Storytelling Belle*, 15
Nickelodeon Nicktoons MLB*, 15
Pac-Man & Galaga Dimensions, 22
Querty Town, 22
Reel Fishing 3D: Paradise, 22
Rock Star Mickey, 15
RockSmith: Auth. Guitar Games, 23
Simon Flash, 23
Spy Net Stealth Recording Video Glasses*, 23
Star Fox 64 3D*, 16
Stella and Sam Story Pack*, 16
Ticket Store Game, The, 24
Tiger Woods PGA Tour: The Masters, 24
Twinkle Twinkle 1.0, 16
Weird Al Yankovic's When I Grow Up, 17
Woogie, 24
* Editor's Choice