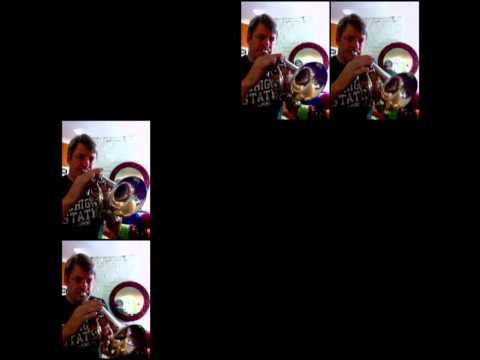 Warning — once you download this app, you can kiss the rest of the evening goodbye.
MadPad ($2.99 at www.smule.com for iPad 2, $.99 for iPhone or http://itunes.apple.com/us/app/madpad-hd-remix-your-life/id460309682?mt=8 ) turns your iPad 2 into mix board with the sights and sounds of your choosing. It's the latest project from Smule (www.smule.com), the Stanford-spawned company that also made Magic Piano and Ocarina. Designed specifically for camera-equipped iPads, iPhones or iPod Touches, the app samples sights and sounds, and then lets you play with them — making a rap or bending a sound up or down.
You start with 12 empty squares. Touch one, and you launch the "SoundTrigger," a sound grabbing tool that measures the ambient room noise. Somehow, it is smart enough to begin recording the instant before your cat meows.   If you don't want to create your own sounds, you can borrow from a library of MadPad users. More nuts and bolts about how MadPad works is in this PDF  http://www.nime2011.org/proceedings/papers/F02-Kruge.pdf. Sharing your final work as a non-interactive YouTube video is easy. See http://www.youtube.com/watch?v=LADgRaq3g8I.
Besides a screen rotation problem, one thing that makes me mad about MadPad is that it turns your final project into a MadPad commercial, if you accept Smule's invitation to share it on Facebook, Twitter, YouTube or by email. A message is auto-generated that says something like "I just made a remix of my life with MadPad! Check out this set and then make your own!" The catch is that you can't play the set unless you own the app, a fact that should be stated up front. So your eager relative will end up seeing "in order to view this set, you must own the app and open this page on your iPad, iPhone or iPod Touch. Don't have MadPad? Get it now!" For $2.99.
Don't get too mad however. The creative possibilities of this app more than make up for the in-app sales pitch. Having some friends over? Pass your iPad around the table and ask each come up with an adjective. You'll have an instant, unforgettable icebreaker. Who knows, perhaps your snoring uncle might even become a valuable part of the mix.