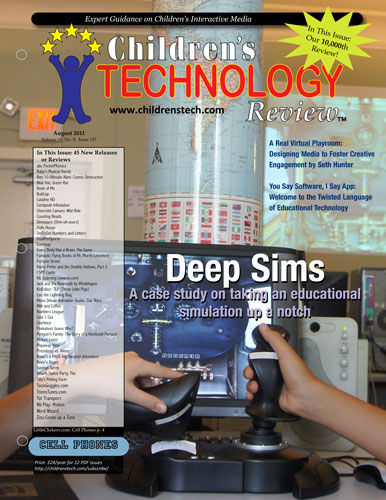 Deep Sims: A Case Study
At precisely 8:52 AM, Saturday, August 6, 2011, two 12-year-old boys will open the throttle of the Spirit of St. Louis, try to stay on the runway, and get off the ground. If the takeoff is successful, they'll bank toward the open ocean and land — the next day — in Paris, France. Seem extreme? Possibly. But given the flexibility of an independent non-profit operating in a small town library, and the power of an aging flight simulation, the real time exercise has proven that it can bring a spark of authenticity to learning that is rarely found in a traditional classroom setting. It also keeps children, and the public, interested. See page 5 or visit www.mediatech.org
You Say Software, I Say App: A Look at the Twisted Language of Educational Technology
Last year, NECC (National Educational Computing Conference) became the ISTE (International Society for Technology in Education).  Why the name change? It seems that nobody knows what to call the stuff we review.  Over the years, our own publication has morphed from Children's Software Revue (1993), to Children's Software & New Media Review (1998) to Children's Technology Review.   In this issue (page 11), I make a noble attempt to take a closer at the language of this space.

A Real Virtual Playroom:  Designing Media to Foster Creative Engagement
When researchers spend time playing with children, it can generate some terrific research questions. Such was the case when MIT Ph.D. student Seth Hunter was playing Angry Birds with a 5-year-old friend. It made him wonder, "What distinguishes digital media from traditional media like books, television, and learning toys?" His article (page 6) explores six possiblities.
LittleClickers: All About Cell Phones
Do you know what the word cell in cell phone means? If you were an engineer at Apple, and Steve Jobs said design the iPhone 5, what would it look like?   What year was the first cell phone made, and in what city? Scroll to page 4 to find these and other answers to common questions about this amazing device.
In This Issue: 45 New Releases or Reviews
abc PocketPhonics
Baby's Musical Hands
Ben 10 Ultimate Alien: Cosmic Destruction
Blue Hat, Green Hat
Book of Me
BubCap
Cataline HD
Centipede Infestation
Chevrolet Camaro: Wild Ride
Counting Beads
Dinosaurs (Dine-uh-sours)
Dolls House
DotToDot Numbers and Letters
DualPenSports
Everloop
Every Body Has a Brain; The Game
Fantastic Flying Books of Mr. Morris Lessmore
Fortune Street
Harry Potter and the Deathly Hallows, Part 2
I SPY Castle
IXL Learning (www.ixl.com)
Jack and the Beanstalk by Mindshapes
KidEditor: TLP (Three Little Pigs)
Leo the Lightning Bug
Meon Deluxe Animation Studio: Star Wars
Milk and Coffee
Numbers League
Odd 1 Out
OneVoice
Peekaboo! Guess Who?
Penguin's Family: The Story of a Humboldt Penguin
Picture Lives!
Playaway View
Presidents vs. Aliens
Roxie's a-MAZE-ing Vacation Adventure
Roxie's Doors
Savings Spree
Smurfs Dance Party, The
Tilly's Petting Farm
ToonGoggles.com
ToonsTunes.com
Tot Transport
Wii Play: Motion
Word Wizard
Zizu Cooks up a Tune