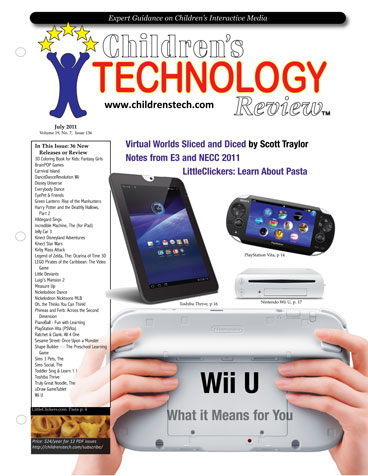 E3: Wii U, PlayStation Vita and Kinect
Bustling with gamers and overly enthusiastic Italian TV crews, this year's Electronic Entertainment Expo (E3) was a good one. Held each May in LA, the show has had both on and off years, and this year was definitely an "on." Besides the crowds and a lot of buzz around new children's Kinect titles (see Sesame Street: Ready, Set, Grover!) two important game platforms were announced. Wii U, which represents Nintendo's step into both HD and the "social cloud" (thanks to a camera and Wi-Fi link between the controller and the console) and the technology-packed handheld called PlayStation Vita; Sony's admission (finally) that the future really does lie in capacitive touch screens. My two favorite Vita titles to watch: Little Big Planet, and a collection of logic puzzles called Little Deviants.
NECC: A Race to the STEM Clouded Candy Bowl
White board-based instruction systems (with handheld polling devices), expensive, cloud-based curriculum with annual contracts, and some extremely interesting Android-based tablets were on display at this year's highly swagged National Educational Computing Conference (NECC).
Fortunately for me, the show was in Philadelphia so I could drop down for a day to walk the floor, have dinner with my friends from Computer Explorers and stroll past the real, non-virtual Liberty Bell.
It is easy to become both excited and cynical when you attend two technology shows (E3 and NECC) in the same month. Both deal with "E's" —  Entertainment and Education. So which show had the learning innovation? E3, by leaps and bounds. Case in point, Nintendo's Measure Up. At NECC, educators were lined up with coupon books, trading time for the candy and T-shirts being tossed out as a reward for sitting through a sales pitch for a $3000, soon-to-be obsolete interactive white board. How behavioral.  Two highlights none-the-less: BrainPOPs new game section and the Toshiba Thrive tablet, the first generation, Google powered iPad competitors.
LittleClickers: Pasta
If you live in the US, you eat an average of 15 pounds of pasta every year. Macaroni really is as American as Yankee Doodle. Learn more on page 4.
Virtual Worlds Sliced 'n Diced
Which virtual worlds are getting the most traffic, and why? Have a look at page 5 for a preview of a study just completed by the all knowing, all seeing Scott Traylor of 360 KID.  This article is important for two reasons. Besides providing a global perspective on the virtual world space, it is written by our first Contributor, as part of my effort to expand the voices in Children's Technology Review. If you'd like to write something and you can agree to our editorial guidelines, let me know.
Dust or Magic News
Save the date for Dust or Magic 11, to be held Nov. 6-8 in Lamberville New Jersey. On the agenda: Chip Donahue on "Erik Erikson in the Age of iPad."   If you missed AppCamp, the videos are now live. See http://bit.ly/mq9fww or http://dustormagic.wikispaces.com/AppCamp.