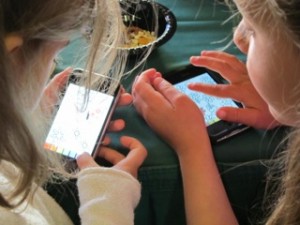 Announcing the Second Annual Children's AppFest at Asilomar Conference Grounds—Public Invited
Come explore state-of-the-art children's apps, and meet some of the faces behind the apps your children play.  Children are welcome. Details at http://www.dustormagic.com, or you can read the press release here, in pdf format
WHEN: May 22, 2010
WHERE: Pacific Grove, California at Asilomar Conference Grounds, at Merrill Hall from 1-5 PM
COSTS AND RESTRICTIONS: There is no cost for the AppFest although there is a $10/person facility fee to be paid at the registration table in Merrill Hall, upon entrance, for those spending more than 2 hours on the grounds.  Children under 3 are free.  Schell Lecture seats are on a first-come, first served basis. AppFest ends at 5:00 PM.  No selling or promoting is permitted.
WHO: Reviewers, app developers and researchers from around the country will gather at Merrill Hall at Asilomar Conference Grounds on Sunday, May 22 to explore children's app design.
As part of the agenda, there will be a free, public Children's AppFest, where anyone is welcome to demonstrate or try out a favorite app, talk to a designer, or share an idea for an app.  AppCamp is created by Active Learning Associates, Publishers of Children's Technology Review, an independent publication. Children's AppFest has no  affiliation with Apple, Google or any publisher.
A SPECIAL LECTURE: At 4:00 PM, there will be a welcome by California State University Monterey Bay Professor John Ittelson followed by a talk by Carnegie Melon University Professor Jesse Schell.  Professor Schell worked on Disney's Toontown Online, Disney Fairies, Pixie Hollow and two of the most popular interactive theme park attractions in the world: Disney's Toy Story Midway Mania and Epcot's Sum of All Thrills. He was the Creative Director of the Disney Imagineering Virtual Reality Studio.  Note: AppFest participants are welcome to stay for Dr. Schell's talk, for no cost. Childcare will be provided although you are responsible for your own children. Children may care less for the lecture than the apps, so plan accordingly!   Seats for the lecture will be given first to AppCamp participants. Other seats are on a first-come, first-served basis.
PEOPLE YOU'LL MEET: Gabriel Adauto, Motion Math Games; Lorraine Akemann, Founder, Moms With Apps; Warren Buckleitner, Editor, Children's Technology Review; Mandeep Dhillon, Founder, Togetherville; Daren Carstens, Carstens Studios; Caroline Hu Flexer, Co-Founder, Duck Duck Moose Design; Claire Green, President, Parents' Choice Foundation; Steve Glinberg, President, KidCalc; David Kleeman, President, American Center for Children and Media; Michel Kripalani, Founder and President, Oceanhouse Media; Jacob Klein, Motion Math Games; Jason Krogh, Director, zinc Roe; Robin Raskin, Living in Digital Times; Eric Rosenbaum, MIT Media Lab (Singing Fingers); Andy Russell, LaunchPad Games (ToonTastic); Jesse Schell, CMU/Schell Games; Mark Schlichting, NoodleWorks Interactive; Aleen Stein, The Criterian Collection; Jodi Ropart & "The Mule from Smule," Smule; Reyne Rice, TIA; Scott Traylor, 360KID; Keli Winters, Evan-Moor. Demos and commmentary will be provided by Ann McCormick, founder of The Learning Company; Barbara Chamberlin, director of the University of New Mexico Learning Lab; Bill Doyle author of the Crab Hill Press title Nash Smasher; Carley Schuler, researcher/blogger for the Joan Ganz Cooney Center; The Juno Company; Dr. Jennifer Wells of PBS, Dr. Jim Gray; BinaryLabs: Tom Fischaber of Disney: Maxis CoFounder Jeff Braun: Fisher-Price designer Jeff Thurman: and others.
WHAT TO BRING: Snacks, diapers/strollers and charged iPads, iPods and Androids loaded with your favorite apps.  You are responsible for your own belongings and children.
CONTACT:
Monterey:  John Ittelson, 831 915-1333
AppFest Coordinator:  Warren Buckleitner, 908-284-0404 (9-4 EST) or warren (at) childrenstech.com