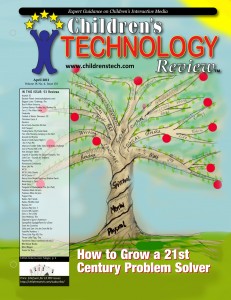 April 2011
Volume 19, No. 4,  Issue 133
News & Commentary on Children's Tech by Warren Buckleitner, Editor
NOTE: CTR is an ad-free, subscriber supported publication. We post select content on our site. Review and articles are sent each month to paid subscribers. You can subscribe for $24/year to get full access.

April showers bring 3D, at least for this year. They also bring iPad 2s and another wave of children's apps.
First the 3DS. "It rocks," said our testers when they first saw it last month. But more significantly, "it still rocks" a month later.  The clear 3D upper screen, combined with the new gyro and motion detection (on par with a Wii Remote) bring something new to handheld gaming that isn't going to fade. But the 3DS does have a few warts:
• The price. At $250, this flavor of 3D comes with a pricetag out of the range of many families. One father watched his daughter on the 3DS and groaned "Arggh — we just got our Kinect. Now this?"
• The batteries drain noticeably faster than the older DSi; a problem for long car trips. Week batteries are a big deal; dooming the PSP Go. Sure, the new charging cradle is nice, but you still need to be near a power outlet. Kids will be fighting for those scarce airport power outlets, too!
• 3DS game cartridges won't run on the older DSi or DS light, giving parents another way to bring home the wrong game. Fortunately, the game packaging is well marked.
• Game quality varies. 3D doesn't insure good game play, so read the reviews before paying for the 3D premium.
Hasbro's MY3D is another interesting gadget you'll find in this issue. It turns your iPhone or iPod Touch into a 3D iMax theater. You snap your iPhone or iPod into it, to deliver 3D . Before you scoff "it'll never work," consider that the device costs about the same as a single 3DS title ($35) and will be able to play multiple apps that are either free or cost a few dollars. So, if you already have an iPhone or iPod Touch, 3D is within reach. See our in-office demo at http://www.youtube.com/watch?v=bfqRiNfy2LQ
Recipe for a 21st Century Problem Solver
Last week, I was invited to host a parent's night at the Darien, CT public library around the topic of bringing up children in the age of the iPad.  To better understand this complicated topic, I turned to something very low-tech. A tree. See page 5.

Sites and Videos about Magic
Do you know how to pull off your thumb? Can you make a coin come out of your sister's ear? See page 4 for a list of sites and videos that will teach you some simple magic tricks.
Coming Next Month: A New Way to Search The Finder!
We're happy to announce that we're nearly ready to unveil a new, re-designed children's software finder that will let you search our database by specific learning area, as well as age level, platform, rating and so on. Existing subscribers, we'll be contacting you in May regarding this change. In the meantime, have a happy spring!
REVIEWS IN THIS ISSUE: 53, SORTED BY AGE (the page number is in the PDF version of CTR. Reviews are also in the Software Finder database).
Babies & Toddlers
Jellytoons Toddler Skills: Bobo's Birthday Challenge, www.jellytoons.com, p. 10
Juno's Musical ABC's HD, www.thejunocompany.com, 10
Little Ears – Sounds for Toddlers, http://Mobiler.pl/, p. 21
Preschool & Kindergarten
Dora Fiesta Favorites Kitchen, www.fisher-price.com, p. 20
Finding Nemo: My Puzzle Book, www.DisneyDigitalBooks.com, p. 8
Five Little Monkeys Jumping on the Bed, www.oceanhousemedia.com, p. 9
Goosed Up Rhymes, www.brainfreezeent.com, p. 9
Penguins of Madagascar, The (for iPad), www.frogdogmedia.com, p. 11
Scout's ABC Garden, www.leapfrog.com, p. 13
TeachMe Numbers 1, www.nigelgreensapps.com, p. 15
Word Wagon, www.duckduckmoosedesign.com, p. 16
Early Elementary
Bust-A-Move Universe, www.square-enix.com, p. 7
Cars 2: The Video Game, www.disneyinteractivestudios.com, p. 19
Cinderella, www.onehundredrobots.com, p. 7
ELS Passport, www.awe-net.com, p. 20
Kids Designer Tablet, www.geniusnetusa.com, p. 20
Legend of Spookley the Square Pumpkin, The, www.oceanhousemedia.com, p. 21
MazeArtPlus, www.learnwithfunapps.com, p. 10
Montessori Crosswords, http://lescapadou.com, p. 11
Move Like Me, www.tentoed.com, p. 21
Nintendogs + Cats, www.nintendo.com, p. 11
Puppet Pals, http://polishedplay.blogspot.com, p. 12
Stella and Sam: Into the Snow We Go, www.zincroe.com, p. 15
Three Little Pigs HD, The, www.so-ouat.com, 15
Three Little Pigs, The, www.nosycrow.com, p 16
Wild About Books, http://www.randomhouse.com/kids/apps/, p. 16
Upper Elementary
Christmas Carol, A, www.padworxdigital.com, p. 19
Baobab Planet (www.baobabplanet.com), 18
Carnival Games: Monkey See, Monkey Do, www.2kgames.com/2kplay/, 18
Hasbro Family Game Night 3, www.ea.com, 9
I Am T-Pain Mic, www.jakkspacific.com, p 20
MY3D 360° Sharks, www.hasbro.com, p. 22
MY3D Sector 17, www.hasbro.com, p. 22
Nancy Drew Mobile Mysteries Shadow Ranch, www.herinteractive.com, 22
Pokémon Black Version, www.nintendo.com, p. 12
Pokémon White Version, www.nintendo.com, p. 12
Rayman 3D, www.ubisoft.com, p. 23
Skylanders Spyro's Adventure, www.activision.com, p. 24
SpongeBob SquigglePants for uDraw, www.thq.com, p. 14
Yoomi for Duo, www.discoverybaygames.com, p. 17
Middle School
Asphalt 3D, www.ubisoft.com, p. 18
Biggest Loser: Challenge, The, www.thq.com, 18
Combat of Giants: Dinosaurs 3D, www.ubisoft.com, p. 19
Radica Mindflex Duel, www.mattel.com, p. 23
Samurai Warriors 3, www.nintendo.com, p. 13
Vanished (http://vanished.mit.edu/), www.mit.edu, p. 24
High School
Sims 3, The (3DS), www.ea.com, p. 14
Sims Medieval, The, www.ea.com, p. 23
All Ages
MY3D, www.hasbro.com, p. 21
Nook Color, www.bn.com, p. 22
Schools
Dexteria, www.binarylabs.com, p. 8