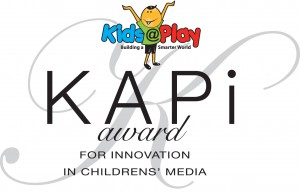 NINE PRODUCTS AND TWO INDIVIDUALS WIN THE KIDS AT PLAY INTERACTIVE "KAPi" AWARDS AT CES 2011
New York City, December 9, 2010 – The second annual Kids at Play Interactive – "KAPi" award winners were announced today recognizing the most innovative games, software, devices and apps for educating today's digital children.  The KAPi Award ceremony will take place at 2011 International CES in Las Vegas on January 7, at 6:00 p.m. at the Fashion Show Mall.
More than 500 children's technology products, each released in 2010, were considered for the KAPi Awards program, and were evaluated by an independent jury of industry and editorial experts. The judges were looking for products that raise the bar for innovation and design excellence.
The KAPi Award winners are:
Best Children's App – Magic Piano, Smule;
Best Technology Toy – SpyNet Watch, Jakks Pacific;
Best Video Game – Art Academy, Nintendo of America
Best Educational Title or Service – Star Walk, Vito Technology;
Best Music, Movement or Rhythm Experience – Dance Central for Kinect by Harmonix;
Tools for Digital Creativity and Empowerment – Gamestar Mechanic;
Innovation in Virtual Worlds or Social Networking Service for Kids – Moshi Monsters, Mind Candy;
Hardware -iPad, Apple;
Award for Innovation "Novito" – Kinect, Microsoft;
Legend Pioneer – Jim Marggraff, Inventor LeapPad, CEO and Founder, LiveScribe;
Emerging Pioneer – Krista Marks, Founder, Kerpoof; General Manager, Disney Online Kerpoof Studios.
The KAPi Awards are organized by Children's Technology Review and Living in Digital Times, the organizers of the Kids@Play Summit at International CES January 6-9, 2011 – a conference and an exhibition located in the North Hall of the Las Vegas Convention Center. http://kidsatplaysummit.com/
"We've just witnessed a ground-breaking year for children's interactive media" said Warren Buckleitner, Editor, Children's Technology Review. "Twelve months ago, the iPad and Kinect were just funny words. Today, both have received the industry's highest honor— a KAPi."
"For a very long time, I've worked to shine the tech sector spotlight on kids," said Robin Raskin, founder, Living in Digital Times.  "The winners reflect trends including mobile applications for kids, new video games that use the body instead of the mouse and products geared to intergenerational digital play and storytelling."
The judges for this year's KAPi Awards consisted of a panel of leading journalists and publishers, including:
Warren Buckleitner, Editor, Children's Technology Review;
Alice Cahn, Vice President of Social Responsibility, The Cartoon Network;
Carolyn Handler Miller, Author, "Digital Storytelling: A Creator's Guide to Interactive Entertainment";
David Kleeman, President, American Center for Children and Media;
Ann M. McCormick, President and CEO, Learning Friends; Co-founder of The Learning Company;
Frank Migliorelli, Sr. Vice President of Design, ESI Design, Inc.; Faculty at NYU;
Robin Raskin, Founder, Living in Digital Times; former Editor & Publisher, Family PC Magazine;
Reyne Rice, Trends Specialist at the Toy Industry Association;
Mark Schlichting, President, Noodleworks; creator of Broderbund's Living Books;
Andrea Smith, Producer, ABC Radio News;
Aleen Stein, CEO, Organa, Co-Founder, Voyager; President, The Criterion Collection
About Living in Digital Times
Founded in 2002 by tech journalist and consultant Robin Raskin, Living in Digital Times is designed to create a dialogue between companies and key consumer demographics via a variety of media projects in which getting smart about the digital world is fun and entertaining. In addition to the six CES-based TechZones, Living in Digital Times offers a range of services that articulate the digital experience to various constituencies.  Services include trade show planning and management, web site promotion, and consulting services. Learn more about Living in Digital Times at http://livingindigitaltimes.com
About Children's Technology Review
Since 1993, Children's Technology Review has helped parents, teachers, librarians and publishers keep up to date on the latest products, by way of independent, descriptive reviews of children's interactive media products. Subscriptions are $24/year in pdf format (12 issues), which includes database access.  The ad-free publication is available in print and electronic versions. Learn more at http://www.childrenstech.com.
For More Information
Cheryl Delgreco
Media Strategies
cdelgreco@msipr.com
617-723-4004
Liora Bram
Media Strategies
lbram@msipr.com
617-202-9854
# # # #