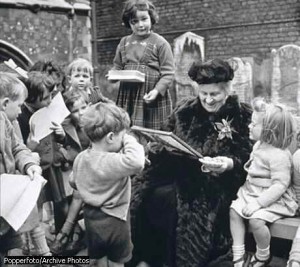 This is a fun question, and one that I'll be exploring in depth in my presentation tomorrow night at the Strong Museum of Play. I'm also going to be introducing ten apps that I think support Montessori ideals.
Download some pages from the November 2010 issue of CTR that explores this question in PDF format: Pages from the November 2010 Issue of CTR.

————-
By the time she was 43 years old, Maria Montessori was an educational rock star.
In the fall of 1913, two of her admirers — Thomas Edison and Alexander Graham Bell, invited her to come to the United States to give an address at Carnegie Hall, and 1000 people had to be turned away at the door. See http://bit.ly/92w6w2. John Dewey himself provided her introduction.
So what if it were 2010 instead of 1913, and Montessori was asked to talk about technology? Would she condemn it, as being overly commercialized and abstract? Or would she embrace it, recommending the purchase of iPads in all of her schools?
I think she'd see the issue in the same way she saw the role of the teacher, using the same criteria she used to choose and design materials.
Apps would be merely a new kind of material for her. Some apps are supportive of a young child… others are less so.
I think she'd be extremely excited about multi-touch on the larger iPad screen; and she'd love the concept of how you can use the Internet to deliver content to a child, at any time. After all, she was a scientist/MD, who embraced new technology. She'd like way the Wii gets children moving around, and be curious about additional applications for the accelerometer.
She'd be the first to give a young child a digital camera to capture representations of his or her world, and would be on the front edge of exploring how to tap the power of the touch screen to help children acquire language and logic abilities.
I think she'd be very excited by apps that self-level, and that give children instant feedback on their finger swipes.
She also wanted her students to be active participants in the future, and it is clear that she understood that her students would grow up in a world different than the present time, having lived in the time of Marconi and having personally witnessing the effects of many medical breakthroughs.
But she'd view the issue as the scientist she was. This new stuff should be studied, and implemented carefully — in a way that is customized to each individual child.
MONTESSORI'S CONCERNS
I'm quite certain that Montessori would have a lot to say about the downsides of technology; most principally the abstract nature of most glass screens. She'd be highly critical of the amount of didactic media (one way, non-interactive) or time that a young, modern child spends with in structured settings like classrooms with rows of seats, or in front of a screen with nothing but abstract symbols, and she'd be very quick to remind today's parents and teachers that young children learn best when actively engaged in some way. The more real, the more meaningful, the better chance the learning sticks.
She'd condemn programs like Baby Einstein, comparing them to the worst possible teacher who does nothing but try to talk and stimulate, and leaves nothing for the child to do or play with. She'd say it removes the creative spirit from a young learner.
She'd be horrified at the amount of time children spend with low quality, didactic teaching (and media), especially where there is some sort of marketing angle going on; worrying loudly about the morals of a society that would attempt to manipulate a child for financial gain. Montessori often invoked themes of spirituality in her writing, as you can see, and I think probably invoke the highest of powers on this issue.
Don't take my word for it. Have a look at Maria Montessori's orginal text and make your own conclusions. It's a great educational exercise.
Finally, there's no doubt that Maria Montessori would be amazed at the number of the schools that bear her last name. Here are four of the five famous Montessori Graduates who have helped form today's technology landscape. (The fifth is Wikipedia founder Jimmy Wales).
1. Larry Page; son of Carl Victor Page (MSU  computer science professor) attended Okemos Montessori School (now called Montessori Radmoor) from '75 to '79. He also attended Interlochen Academy and the University of Michigan; taking a class from Elliot Soloway
2. Will Wright had a "brief, intense" elementary Montessori experience in Atlanta GA, until sixth grade. (See Maria Montessori: The 138-Year-Old Inspiration Behind Spore, Kotaku http://bit.ly/8uiER)
3. Sergey Brin attend Paint Branch Montessori School in Adelphi, Maryland. He later tried unsuccessfully to get into M.I.T.  In 1995,  Sergey got into a two-day argument with a visiting younger U of M student, Larry Page. He talks about his Montessori education, here.
4. Jeffrey Bezos took his crib apart with a screwdriver.  After his Montessori early education, he attended River Oaks Elementary in Houston from the 4th to 6th grades.  By his mother's account, the young Bezos got so engrossed in the details of activities at his Montessori school that teachers had to pick him up in his chair to move him to new tasks. http://bit.ly/afmDHb