"Perfecting the world is our task, in whatever way we choose to do it." Dr. Arella J. Lehrer, President of Legacy Interactive, from her Facebook birthday greeting.
New parents used to bring home a baby with some simple statistics, like a time of birth and a weight. A child born from 2016 on will have the added advantage — or perhaps curse — of being accompanied home from the hospital by growing cloud of data associated with their newly minted identity.
This growing cloud is poised, ready to deliver chunks of your baby's and family's Pii (Personally Identifiable Information). It starts when a concerned father searches for a stroller, or when a parenting app is downloaded. Advertisers will know your child's likes and dislikes, how much she sleeps, where she lives (and the value of the home she lives in), how she learns and will someday buy. There's no doubt that these web-centric technologies offer great promise. They might customize a curriculum or help predict and prevent an eating disorder. But they might also deliver laser-guided commercialism that is adept at influencing behaviors, helping to create a digital caste. Who knows?
As we documented in last week (CTR Weekly December 28 http://eepurl.com/cvBfw9), 2016 will go down as the year our of our first major step into the future. We saw hordes of children roaming the streets with smart phones and the location sensing game Pokémon GO. We also saw the commercial viability of VR systems from Sony and voice controlled computing devices like the Echo. That was last year. What's next? CES is a great place to find out, and there's no better guide than Robin Raskin,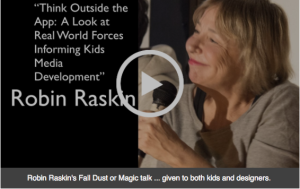 who helps figure out the programming for various conferences (in full disclosure, CTR is hired to help manage of these). Last November Robin gave at talk at Dust or Magic called "Thinking Outside the App: A Look at Real World Forces Informing Kids Media Development"
Watch Robin's talk here:   https://youtu.be/0Hkd08mki1s
Here are nine important ideas from the 30 minute talk, in case you don't have time to watch the entire video. They explain which technologies will shape the next 12 months, and beyond, for better or for worse.
1. Artificial Intelligence, Algorithms & Predictive Analysis. Algorithms will help teachers, librarians, doctors or marketers through "predictive analysis" which can be combined with other emerging technologies including natural language processing and image recognition. Hospitals could use it for disease diagnosis, and it might be used to set insurance rates or figure out if your child has a chance of making it into college. As Robin says, "if a child likes pizza, math problems will be more likely to feature your child's favorite topping."
2. Augmented Reality Meets Your Location. Millions of consumers already shop with augmented reality. They can try out virtual makeup in advance or see what a toy kit will look like before it is assembled (https://youtu.be/PGu0N3eL2D0). Things get really interesting when you add mapping and geo-location. Robin introduced the idea of "narrative geotagging" where a child can tag locations with tweets or social media posts; leaving a cookie crumb trail of stories.
3. Virtual Reality. VR has been well discussed (see last month's Dust or Magic talk by Jesse Schell). Its widespread commercial use raises many new questions. Could it be used to increase feelings of empathy? Will it be used as a learning tool, and is it true that girls tend to drop out of VR experiences faster than males?  If so, why? Are there other concerns? We'll learn much more in 2017.
4. Voice Computing. Our babies won't know what to do with a mouse or keyboard. Amazon's Echo (and Google Home) are now in stores, and they will bring voice recognition into many more homes or playrooms. Simultaneous translation will be a reality.
5. Wearables. As the Apple Watch's "taptic" features demonstrated last year, the next generation of connected devices will help use "behavior nudging" to remind you when to sit up straight, go for a walk, or increase your heart rate.
6. Digital Allowance. Gone are the days of dollar bills for allowance. The next generation will have virtual allowance to services like Minecraft, Moshi Monsters, iTunes, Amazon or Google Play: services where every transaction is linked to other products.
7. Videos Instead of Text. Children of the future don't read for answers, even if it's on the screen. They prefer to type (or say) a few easy keywords into YouTube to pull up short videos for the answer. The next generation will want bite sized, informative, searchable videos that answer their questions.
8. Internet of (Kids) Things. When you say IoT (Internet of Things) most people think about an app controlled furnace or a smart light bulb. In the future, your child's toys, tablet and mattress (https://youtu.be/HiwoUec109o) might harvest information about your growing child. More apps will make money from targeted ads or loyalty points. This brings a host of new opportunities and worries.
9. Pii. Personally Identifiable Information is another buzzword you'll hear about in 2017. It means information that can be linked to your email, screen name or IP address. Google and Facebook collect tons of Pii, and so will Minecraft (owned by Microsoft) and toy companies. The more Pii a service has, the better they can serve you. There's very little guidance about how kids should be treated in a Pii world, says Raskin. Because current laws like COPPA (the Children's Online Privacy Protection Act) are antiquated and expensive to implement, children can use social media like Facebook, YouTube and Snapchat based on the fiction that adult permission has been granted.
Terms to know: Here are some terms that are identified in either Robin's talk, or this article. How many can you define?
Predictive Analysis IOT (Internet of Things).
Digital Currency.
Pii (Personally Identifiable Information).