Did you just purchase a Fire HD Kids Edition (Amazon Kindle)?
Here are 3 of our higher rated apps for the device plus a link to 57 more…
Thinkrolls Kings & Queens
Avokiddo www.avokiddo.com, ($3.99 on iPhone, iPad, Android, Kindle) for ages 5-up.
Why we like it: It's always nice to see a good app get better. If you've played Thinkrolls, there are no surprises with this app, other than a playful story theme, beautiful background music and much more content. The objective with each of the 228 puzzles is simple: to clear a path to a key by moving and combining objects. The key opens the gate to the next level. If you get stuck, there's always a reset option. The play pattern works — you "roll" a character with a swipe, through each maze.
The mor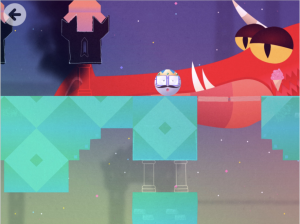 e levels you unlock, the harder things get. There are some creative nice touches. You can get past a hungry crocodile by lulling it to sleep with a harp, or make a ghost vanish with reflected light. The levels include Gear & Rack (combine gears with racks to create ladders & conveyor belts); Chest & Bridge (fill gaps and collapse swaying bridges to clear the way); Crocodile & Harp (use the harp to lull the crocodile to sleep); Ghost & Mirror (shift the mirror to eliminate the ghost with reflected light); Hatch & Lever (switch the lever to open and close hatches) and Flying Potion (unleash the magic potion to defy gravity and fly to the finish). Content includes 115 easy puzzles for ages 5-8 & 113 hard puzzles for ages 8-up. Progress is automatically bookmarked for up to six different players. The castle-based story theme helps keep you engaged, plus you can decorate your rolling character with things you discover. There are also two challenge levels: easy and hard. The mix of simple machines, spells, spiders and an occasional dragon — in a setting where there are no gimmicks, time limits and unlimited redos make this app an excellent addition to any tablet.
Need to know: Video review: https://youtu.be/VKrLgwm4zIo
Full Review: http://reviews.childrenstech.com/ctr/fullreview.php?id=19459
Toca Life! Stable
Toca Boca http://tocaboca.com/, ($2.99 on iPad, iPhone, Android, Kindle , for ages 3-up.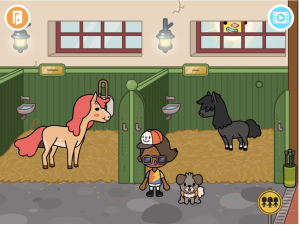 Why we like it: Calling all horse crazy kids — this sixth in the Toca Life series (joining town, city, school, vacation and farm) is yet another powerful open-ended puppet show experience. This time you get to play with a horse theme.
Content includes 24 characters and four locations: a stable (wash, feed, saddle and ride horses); The Arena (show off your horse's jumping skills visit the winner's podium or get a snack in the food court); Forest (go on an adventure ride in the woods; sleep under the stars or swim in a waterfall); and Shop (buy more horse supplies using pretend money — don't worry — this isn't a real shop). New to this version is a horse trailer that lets you port your horse from one area to another.
The most important feature is the ability to record your own stories, which can be saved or shared as movies. As with the others in the series, diversity is celebrated with a multiracial cast, including a child and a wheelchair prop. Make sure to introduce children to the "cleanup" feature on the main menu, which resets all the screens. Let them try it before they invest too much time making their own microworld.
Need to know:
Video review: https://youtu.be/k-pP4knEQnI
Full Review: http://reviews.childrenstech.com/ctr/fullreview.php?id=19463
Horton Hears a Who
Oceanhouse Media www.oceanhousemedia.com, ($3.99 on iPad, iPhone, Android, Kindle, for ages 3-7.
Why we like it: Available on all major tablet formats, this is another one of the sell designed "read and learn" format apps from Oceanhouse Media.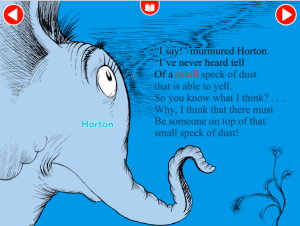 This means that as you explore the pages, you can discover hidden stars that lead to ten bite-sized structured memory and phonics practice activities called Memory Match, Jigsaw Puzzle, Word Search, Sequence and so on. But the genius of the design of these apps is that there is a control panel that lets you toggle on or off these features, making it easy to turn off all the pedagogical bells and whistles and simply page through a silent version of the story. We think Theodor Seuss Geisel (aka Dr. Seuss) would like this type of control over the presentation.
The main strength of this app is the narrative — about an elephant named Horton, and his attachment to dust particle. We learn that "a person's a person, no matter how small" — as told by Dr. Seuss rhyme read by excellent narrators. The text scaffolding features are well designed, letting you tap on any picture or word to see and hear the associated concept. As with other Oceanhouse titles, you can easily jump to any page, and a parent's reporting feature lets you track the number of minutes spent reading.
Need to know:
Video Review: https://youtu.be/hcBoctphmAI
Full Review: http://reviews.childrenstech.com/ctr/fullreview.php?id=19393
For a complete list of all 60 recommended apps:
http://reviews.childrenstech.com/ctr/home.php?search=&category=&age=&subject=&platform=Kindle&sort=new&order=desc&filter%5B%5D=awards&company=&issue=&weekly=&page=