Increasingly, children are exposed to digital experiences specifically designed to manipulate them for commercial reasons. It's unrealistic to think it can be changed. However, it can be managed.
About this Survey
We evaluated a sample of recent (copyright date of 2016) children's commercial apps. The apps were selected for review in Children's Technology Review, and are listed at www.childrenstech.com (you can search by date using this list http://bitly.com/2doyJEy).
Apps are selected for review based on editorial merit. As a result, this set (while not comprehensive) represents a relevant cross section of the current children's app market. Each app was hand tagged for how it is monetized, as follows: paid (n=121), free (n=43), free with IAP (n=27), controller or peripheral to accompany a toy (n=14); paid with IAP (n=7) and subscription (n=7).
Introduction
Gardens get weeds, air has pollen, and children's media is loaded with commercial content, or more recently, different variates of IAP (in-app purchases). In an ideal world there would be no ads or sales motives in children's media. So the first step is acknowledge that it's not an ideal world, and it never will be. Unless you move off the grid, your modern ch
ildren be exposed to a culture of capitalism. That means things like Disney diapers, Elmo Happy Meals and a lot of glowing screens.
As app reviewers, we've noticed a general increase in apps with clever spring-loaded features specifically designed to turn a child into an accomplice in the monetization process. As a result, a young child growing up in today's digital capitalistic culture has a greater chance of being tricked into following a sponsored link, accidentally downloading a product, or watching a video designed to promote rather than inform. The additional money being spent is certainly one issue, especially if it's not intended. But something more valuable at stake — a child's playtime. It is also important to approach this topic from a developmental, rather than a purely cultural point of view. A child under age seven is easier to fool with a tempting offer than an older child, and is also clever enough to get around an age gate (we hope). They are more likely to take an ad at face value. That's why it is important for us all to learn the new language of commercial digital content. Here's a look at the findings.
Paid (n=127)
Definition: Pay a one-time fee and own the app forever, including all future updates. Examples: Look for apps from studios like Toca Boca, Edoki Academy, Dr. Panda, Fairlady Media, L'Escapadou, FreeCloud, Nosy Crow, Sago Mini, Tinybop and Oceanhouse Media.
Need to know: The paid app category is home to a number of noble designers who understand that mixing paid content into an app is a form of teasing and is fundamentally flawed. We pay the most attention to the paid apps (hence the larger sample) because we find the most innovation and highest quality.
Advice for Parents: Get to know a publisher you trust, and stick with them.
Free (n = 43)
Definition: Free apps share one common attribute — there is no initial cost associated with the download. But look closely for hidden motives. In many cases a better word might be sample. Example: Look for free apps from Duck Duck Moose, The Smithsonian, PBS Kids, Google, Duolingo, StarFall and Apple. Be suspicious of apps from Disney, Animico, P

BS Kids and Fingerprint. Need to know: Free apps can vary widely in quality and how ethically they treat a child. The free app category contains some of the best and worst examples. Good examples include the 21 Duck Duck Moose apps, which recently moved from paid to free thanks to a donation to the Khan Academy. Other free apps include the Smithsonian Learning Lab, Starfall and a line of educational apps from New Mexico State University's game lab. Bad examples are also easy to find. A free app might have limited content, ads or be a front for collecting information. Free apps are more likely to ask for your permission to send you information (push alerts) and they may automatically add hashtags to work that you create. Such is the case with MSQRD (a face editing app that we like), which tags itself on social media. Free (or "lite") apps can cause confusion when they are named like the "full" paid version of the sample app. The recently released Sago Mini Baby Dress Up is a free app, but is actually just a sample, or a teaser, for the larger paid app (Sago Mini Babies). Busy parents won't know the difference.
Advice for parents: Don't automatically dismiss a free app, especially if it may have non-profit intentions. Help children ask questions like "What's the catch?" and "Why did somebody make this app?"
Free plus IAP (n=27)
Examples: Examples of "Free plus IAP" (or In App Purchase) come from some of the largest names in media, including Disney, Hasbro, Gameloft, King, Zynga, Rovio, Chillingo, JumpStart, Mattel and others. Specific examples to consider include Pokémon GO, Fiete Sports and the Disney Princess series.
Watch two examples at https://youtu.be/ry9jRNl0HpM
Need to Know: These types of apps range from evil to ethical and it can take up to 20 minutes of game play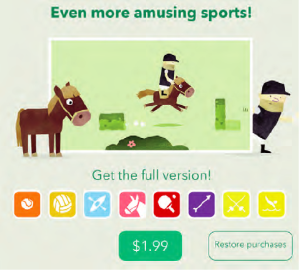 before you know the difference. The worst examples use carefully engineered behavioral techniques, issuing a stream of well-timed tokens, gems or Pokéballs as intermittent reinforcements to keep you engaged. Recent advances in location based technology have made it possible to associate a child's physical location with sponsored content. Game designers talk about creating the right amount of "friction" or rub between the child's goal and the eventual purchase. As a result, these types of experiences can use a child's investment in the experience against them. This category of apps has grown over the past four years, and comes with the most consumer risk, both in terms of cost as well as wasted time.
Advice for Parents: Have a close look at these apps and make sure your child learns how the people who made them make their money. Ask "How is the locked content presented? If it is within view, is it teasing?" "Is there an effective parental gate (firewall) between the content a child has access to, and the content that is being sold?" and "Is there additional sponsored content in the app?"
Controller (n=14)
Definition: A free or low cost app designed to accompany a toy or series of toys or peripherials.
Examples: ThingMaker (Hasbro's 3D printer), StikBot, Osmo, Tiggly.
Need to know: There is a growing number of app/toy combos, where the app is free, and the associated toy or material costs money. Sometimes the free app is well designed and can work on a stand-alone basis (see StikBot), but this is rarely the case. These apps are commonly called "companion apps."
Advice for parents: Remind your child that "The app might be free, but do you need a toy to make it work?"
Paid plus IAP (n = 7)
Definition: This category of app is sometimes called "paymium." You pay for a starter set of content, and are then offered (within the app) to pay more for additional content.
Examples: This technique is often used along with established brands. Both Disney and Microsoft use this technique. See Minecraft Story Edition and Finding Dory: Just Keep Swimming. Other apps include the new version of the Zoombinis and Arties Magic Pencil.
Need to know: The additional content can be called many different things. We've seen chapters, games, levels, expansion packs or content packs.
Questions to Ask: "How is the locked content presented? (is teasing involved?). "Are the Parental Gates harder than the problems in the apps?" "Does the app mix paid content with free content?"
Subscription (n=7)
Definition: This type of app involves a free download that is merely an empty (or almost empty) shell, along with an offer to download a "free trial" along with commitment to continue paying. It's more akin to a catalog than an actual app. Examples: Endless Learning Academy, Curious World ABC Mouse, Virry, Amazon Prime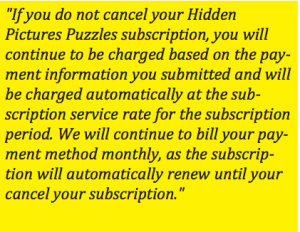 Need to know: Quality can vary from title to title. Find out if you are able to access content from a variety of content creators.
Danger: Auto renewal! Subscription services will continue to charge your credit card unless you remember to take the initiative to cancel. Busy parents often have other things on their minds.
REFERENCES
Buckleitner, W. (October 2016 Volume 24, No. 10, Issue 199) A CTREX Survey of 183 Recent Apps: Understanding the Commercial Trickery of the Modern Children's App, pp.6-7.