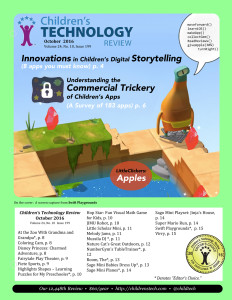 Children's Technology Review
October 2016
Volume 24, No. 10, Issue 199
>> Get the next issue: start a subscription  <<
CTREX Survey #1:  Eight examples of innovation in children's digital storytelling
The annual Bologna Children's Book Fair is a great place to find and discuss new apps. We decided to use our BolognaRagazzi tags to go back a few years to shine a spotlight on eight of the more innovative selections from previous years.  These are products that have raised the bar of excellence and innovation that should be on the radar of every children's librarian, author, illustrator or storyteller. See page 4.
CTREX Survey #2: Understanding the Commercial Trickery of Children's Apps (A Survey of 183 apps)
Have you noticed the trend of more children's apps "going free" or offing a free trial, with additional content sold as an add on? So have we. So we decided to take a closer look. We started by pulling up all the apps published in the past 10 months to see how each is monetized. We've noticed a troubling trend starting to emerge, namely paid content being mixed with tempting looking products. That's why it is important for us all to learn the new language of commercial digital content.  See page 6, or watch the video examples at https://youtu.be/ry9jRNl0HpM
LittleClickers: Apples
They say "an apple a day keeps the doctor away."  Is it true? Do you know how many varieties of apples are there, or how Apple computers got their name? Let's find out (page 3) or visit www.littleclickers.com/apples.
Exciting New features in CTREX
We've added some new features to help libraries manage site licenses, at http://reviews.childrenstech.com/ctr/licenses.php You'll soon be noticing the addition of "expert reviews" as we work to bring more voices into the review process.
Celebrating our 200th issue!
The next issue of CTR will be our 200th. We're not sure what to make of this fact, other than we've sure come a long way since our first printed newsletter, published from our home office in Ypsilanti, MI back in 1993.
Children's Technology Review
October 2016
Volume 21, No. 10, Issue 199
At the Zoo With Grandma and Grandpa*
Coloring Cam
Disney Princess: Charmed Adventure
Fairytale Play Theater
Fiete Sports
Highlights Shapes – Learning Puzzles for My Preschooler*
Hop Star: Fun Visual Math Game for Kids
JIMU Robot
Little Scholar Mini
Melody Jams
Mussila DJ *
Nature Cat's Great Outdoors
NumberGym's TableTrainer*
Room, The*
Sago Mini Babies Dress Up*
Sago Mini Planes*
Sago Mini Playset: Jinja's House
Super Mario Run
Swift Playgrounds*
Virry