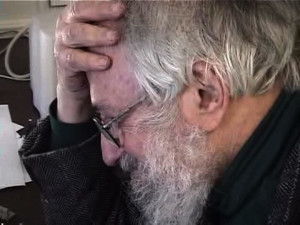 "The world lost an amazing wit, intellect, inventor, bricoleur, scholar, freedom fighter, and friend with the passing of Seymour Papert. He was arguably the most influential educator of the past half century. It would be wise for us all to start thinking about what we each might do to build upon his mighty legacy." Gary Stager, who provided the photo to the right with the caption "Papert thinking through an engineering challenge with an at-risk student."
EDITOR'S NOTE: This issue of CTR Weekly marks the first since the passing of Seymour Papert. We asked one of his former collaborators (and friend to CTR) Dr. Gary Stager to write something. He kindly offered the following.
Dr. Seymour Papert, the father of educational computing, died on July 31st.
by Gary S. Stager, Ph.D.
Had Seymour Papert just earned two Ph.Ds in mathematics, fought Apartheid in 1940s-50s South Africa, been a pioneer in artificial intelligence, and helped Jean Piaget understand how children develop mathematical thinking all by the early 1960s, he would have already earned his place in history as one of the great thinkers of the 20th Century.
Then in the mid-1960s, Papert changed the world. At a time when most adults had never seen a computer, Papert made the outrageous proposal that they should be available to children. Kids would not only use computers, they would program them – thereby granting them agency over an increasingly complex and technologically sophisticated world.
Fifty years ago, along with collaborators Cynthia Solomon and Wally Feurzeig, Papert created Logo, the first computer programming language for children. Logo was not only designed to be accessible to children, but to contain objects-to-think-with so that children encounter powerful ideas while pursuing their own programming projects. The most enduring innovation in Logo was the turtle, first in the physical world and later on the screen. The turtle is a metaphor for oneself that you give mathematical instructions, such as forward, back, right, and left, and in doing so, the turtle draws exactly what you told it to. The turtle's "Mathland" makes abstract mathematical ideas from arithmetic, geometry, algebra, and even calculus concrete as the student instructs the turtle in exactly the same ways they might move their own body to produce the desired result. Logo, was a much more powerful language based on LISP, but the turtle provided generations of children with their first programming (coding) experience.
Alan Kay visited Papert's research lab at MIT in 1968 and was so impressed by what he saw children doing with computers that he sketched the DynaBook, the precursor to the personal computer or tablet, during his flight home.
In 1971, Papert and Solomon published a paper, "Twenty Things to Do with a Computer," that not only proposed a computer for every child and formed the basis for the modern maker movement. The goals outlined in that forty-five year-old document remain challenging for far too many schools.
"In our image of a school computation laboratory, an important role is played by numerous "controller ports" which allow any student to plug any device into the computer… The laboratory will have a supply of motors, solenoids, relays, sense devices of various kids, etc. Using them, the students will be able to invent and build an endless variety of cybernetic systems." (Solomon & Papert, 1971)
In more than 40 years at MIT, Seymour Papert was a co-founder of the Artificial Intelligence Laboratory, the Logo Laboratory, the Media Lab, and presided over the Media Lab's Epistemology and Learning Group. His former students continue to invent the future in all sorts of ways.
Seymour Papert has done more to energize progressive education ideals in the modern era than perhaps anyone else. His singular genius is three-fold.
He created the learning theory of constructionism in which he built upon the Piagetian theory of constructivism by stating that the best way to insure that knowledge is constructed inside the head of a learner is through the active construction of something shareable – a poem, computer program, model, or idea. This notion is exemplified in one his most famous quotes, "You can't think about thinking without thinking about thinking about something."
Papert went beyond the theoretical by providing countless examples of what constructionism would look like in the classroom and home.
Never a utopian, Seymour Papert, from his earliest days, predicted how the system of School would reject such innovations, no matter than value or efficacy.
No mere theoretician, Papert's work extended well beyond the academy. In the 1970s, he and his team conducted multi-year computers in education research in a Brookline, MA middle school and with PK-4th grade students at The Lamplighter School in Dallas. For several years in the 1980s, Project Headlight in inner-city Boston provided 100 computers for 200 elementary students and led to award-winning research by Idit Harel.
From 1999 – 2002, I worked with Papert on the creation of a high-tech multiage alternative learning environment inside a troubled prison for teenagers in Maine. He was a driving force behind Maine's 1:1 initiative, the creation of One Laptop Per Child, and large scale projects in many nations, including Costa Rica, Thailand, and Senegal. When Nobel Laureate Oscar Arias was elected President of Costa Rica, he relied on Dr. Papert to help modernize their educational system. That effort made a significant contribution to their quality of life and economy, while the NGO created to support Papert-inspired education reform, Fundacion Omar Dengo, just celebrated its 30th anniversary.
Anyone who ever met Seymour was impressed by his passion for children, his respect for their ingenuity, and desire to do anything he could to build the tools and schools that would amplify their potential. Papert delighted in the company of children and used his considerable intellect, creativity, and status to celebrate what he called "kid power." I saw Seymour work with children society marginalizes in urban schools, a prison, and developing nations.
In my TEDx talk, "Seymour Papert: Inventor of Everything," I detailed Papert's enormous influence, powerful ideas, and legacy of invention. Here are just a few.
Founded one of the first and oldest (still in existence) educational software company, LCSI. developer of Apple Logo, IBM Logo, LogoWriter, MicroWorlds…
His relationship with LEGO, dating back to 1985, led to the creation of the first programmable robotics systems for children. The flagship product is still named for Papert's most famous book, Mindstorms, long after abandoning many of Papert's ideals.
Papert's company, LCSI, pioneered the site license.
In 1990, Nintendo gave a significant grant to Papert's research group to explore the value of video games in education.
The global phenomena of Scratch is the progeny of Logo. The same is certainly true for all of the Scratch dialects and knockoffs.
Without Papert, there may be no modern maker movement, certainly in schools.
Code.org and the current "coding for all" craze is nearly 50 years late to anyone familiar with Papert's career.
Dash and Dot, Sphero, Tickle, MaKey MaKey, Raspberry Pi, and countless programmable tools are rooted in Papert's work.
In the 1996 book, The Connected Family, Papert described how the Internet creates opportunities for families to learn together.
Millions of children now have personal access to a laptop computer for learning.
Papert's three books about education remain seminal and unrivaled in their influence.
Papert's ideas are not so much controversial as they are ignored by the education technology "community." Papert was bad for business, If you're a school system hell-bent on compliance or standardization, a message of student agency, creativity, and intellectual freedom threatens the status quo. When kids build, maintain, and program the software for their own personal computer, fewer gadgets and apps will be purchased. Such views are a menace to a profit-centric edtech industry and an education system Papert described as idea averse.
The world lost an amazing wit, intellect, inventor, bricoleur, scholar, freedom fighter, and friend with the passing of Seymour Papert. He was arguably the most influential educator of the past half century. It would be wise for us all to start thinking about what we each might do to build upon his mighty legacy.
—————
Gary Stager is a veteran teacher educator, journalist, speaker, and longtime colleague of Seymour Papert. He is the CEO of Constructing Modern Knowledge and the co-author of Invent To Learn – Making, Tinkering, and Engineering in the Classroom.