Children's Technology Review has released Version 3.0 of the CTREX review database. CTREX stands for Children's Technology Review Exchange. The planned update includes requested features and more responsive "on the fly" searching.  The service is ideal for teachers, librarians, publishers and parents. Here is the formal press release. 
FOR IMMEDIATE RELEASE: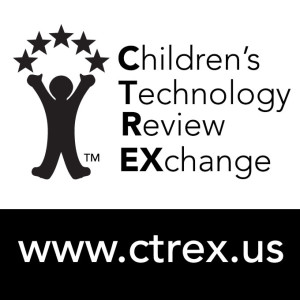 FLEMINGTON, NJ (August 1, 2016) — Children's Technology Review has released CTREX 3.0, the third of four planned versions of CTREX (Children's Technology Review Exchange). Designed to help teachers, parents and librarians choose interactive media products for children aged birth-to 15-years, CTREX is currently the largest, most comprehensive online database of educational reviews of children's interactive media. It works with any mainstream browser, and is available by subscription, for $30 per year (using the promo code "summer").  Note, the regular subscription price is $60, that's 6 months free. 
NEW FEATURES
Flex Rubrics are powerful tools for evaluating diverse types of interactive media products, using an adaptable set of criteria. CTR has created an array of rubrics comprised of custom-picked Quality Attributes designed to fit various genres. CTR Subscribers can evaluate products with the Flex Rubric on CTREX to generate ratings to accompany their comments about a particular product. In this way, they become part of the exchange.  
Publisher Profiles gives useful information on who is behind each product, along with a listing of products the publisher makes. Unlike other review services you are free to jump directly to the publishers website for even more source information. 
Hubs and Bookmarking let different categories of visitors quickly find areas of interest. The new hubs include hand picked resources for Families, Libraries, Schools, ECE (Early Childhood Education) and Publishers which makes finding what you need faster and easier. Reviews can now be bookmarked and saved for exporting or for future reference.   
An Updated Server gives CTREX more speed and bandwidth, to handle more searches during peak hours.
TRY THESE FIVE LINKS: GIVE CTREX A TEST DRIVE
TO SUBSCRIBE
Psst…Subscribe here and save 50% off the "Pro" Subscription for full access by entering "summer". If you know a friend or colleague who might be interested in saving 50% off the full access subscription price, please pass this along!
CONTACT
For more information about Children's Technology Review, visit http://www.childrenstech.com or call 908-284-0404 or 800-993-9499.
For press resources, contact Becky Lingelbach (becky@childrenstech.com).
For editorial questions, contact Warren Buckleitner, Ph.D. warren@childrenstech.com

www.ctrex.us