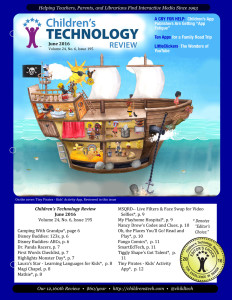 Children's Technology Review June 2016 Volume 21, No. 6, Issue 195
Subscribe for full access  ($60/year, use promo code 10bucks to save $10). 
A CRY FOR HELP:  Children's App Publishers Are Getting "App Fatigue"
What is the "state of the children's app" in 2016? It's not so good, according to the traditional annual "State of the Children's App" panel, held last month in California during Dust or Magic AppCamp.
The panel included some of the best minds in the space: Pierre Abel of L'Escapadou; Björn Jefferey of Toca Boca; Dan Russell-Pinson (Stack the States and others); Ariella Lehrer of Legacy Games; Mark Schlichting of Noodleworks; Valerie Touze of Edoki Academy; and Shazia Makhdumi from Google Play.
Despite incredible improvements in the underlying technology, namely cheaper, faster tablets and more robust Wi-Fi, the business of making and distributing quality children's apps is getting harder. "It just might be" said Toca Boca leader Björn Jefferey, "that there is no viable business model." Jefferey was referring specifically to the creation and distribution of high quality, paid apps, with no advertising, subscriptions or IAP (In App Purchases). Jefferey backed up his comment with references to some industry statistics and the fact that he had just spend the past 12 months looking for a new corporate home for his acclaimed studio (Toca Boca/Sago Mini is now part of Spin Master Toys).
APP FATIGUE is setting in…
"There are so many apps now. If you're not featured in an app store, you're invisible" said Piere Abel. "Counting on being featured by Apple or Google Play is not a good way to build a business." That's when the term "App Fatigue" started popping up in the conversation. For parents and teachers, app fatigue means getting tired of all the gimmicks, like downloading "free" content after being misled by inflated app store ratings, or sticky subscription processes. These apps might include age gates that are too easy to jump, recurring subscriptions that might automatically charge a credit card, or the now very common practice of teasing children with fun-looking extras that cost real money.
A case in point "Barbie Dreamtopia – Magical Hair" which is currently being featured by Apple as a "New App We Love."  Apple seems to equally "love" onboarding children toward the revenue generating locks that appear in apps like these.
Another challenge faced by app designers is that they are now competing with the millions of cute kitten videos waiting in YouTube. For publishers, app fatigue means figuring out how to pay for a team of the artists, coders and musicians needed to create quality products, only to get a dribble of a return.
Valerie Touze, of Edoki Academy, has tried many approaches. She said "we're looking for other ways to make money. This includes toys, licences and subscriptions." Dan Russell-Pinson told the group "you might conclude that we should make our apps free, because that would be good for the customer. Right? No. Because if we make our apps free, we can't make a living, and we can't make the apps customers love. I feel like if a customer doesn't think my app is worth is worth $2 I don't want them. But if they do, I want to give them their money's worth."
IS THERE ANY GOOD NEWS?
Perhaps..
The market seems to be supporting small price increases among trusted brands, like Stack the States 2. Parents are now more willing to spend $2.99 or $3.99 for an app from a publisher they trust.
Bjorn Jefferey reminded the group that the installed base is increasing every day. "There will be a billion more new smart devices looking for apps over the next four years. This is an incredible macro trend, because we know that these screens will be a child's first screen."
One area of concensus that there needs to be more support from app stores, especially Apple, Google and Amazon. They need to understand that dealing with children isn't always about increased revenue, and that their stores must do a better job helping customers to find and identify "premium" one-time cost apps. And perhaps apps that are "free" could really be called what they really are: samples. One thing IS for sure, App Fatigue is real and many small publishers could use a hand.
Did you know…. if you become a paid subscriber to CTR, you could read articles like this … two week ago!
TERMS TO KNOW:  Mono VR vs. Stereoscopic VR Can you explain the difference between these two common VR techniques? Both rely on the motion sensors within your smart phone or tablet, and both let you look around. But the Mono VR approach requires no extra hardware. Stereoscopic VR, on the other hand, is in 3D. It employs both eyes by splitting the screen, which means that some sort of headset is required. There are many on the market, including Sony VR, Oculus, the Samsung Gear, Google Cardboard and the Mattel View-Master.
LITTLECLICKERS: The Wonders of YouTube Every minute YouTube's busy servers pull in an average of over 300 hours of new videos. Where are these videos stored? Who owns them? Which get the most views? Turn to page 3 to learn about the world's leading video sharing service or visit www.littleclickers.com/youtube
FEATURE ARTICLE: Ten Apps for a Family Road Trip
Here are some well designed apps that can convert the screens into fun, shared experiences. Each has been selected because they will run without on even the most remote, Wi-Fi-free highway, and because they contain hundreds of bite-sized bits of rich interaction that are easy to share. See page 4 (subscribers only).
Join the CTREX Community and support "good information" when it comes to children's technology. There are no adds or purchase links and you can't buy a review. Use the promo code 10bucks to save $10!