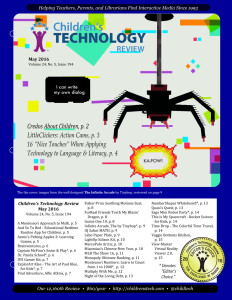 Children's Technology Review
May 2016 Volume 24, No. 5, Issue 194
ISSUE PREVIEW
(Full issues are by available by subscription).
Our May 2016 issue contains reviews and summaries of 29 new products, plus a collection of credos about working with children, from three points of view (the publisher, parent and educator).
We dedicate this issue to the memory of Bettye Caldwell, an early childhood pioneer who died at age 91 last month. Caldwell was a former President of NAEYC who once said that "children need to be loved. They need to be spoken to, all the time. They need opportunities to explore. They need to be safe and to feel safe. They need stable figures in their lives. They need new experiences they enjoy."  We found the quote in her New York Times obituary. We also found two other statements by noteworthy organizations or individuals about valuing "the most important people" and challenge you to make your own credo about children.
For this month's LittleClickers column, show you what's it's like to jump out of an airplane, or to take a ride on an eagle's back. Thanks to a new generation of cheap, rugged digital cameras, plus video sharing services (like YouTube), it's easy to find some amazing views. The links all work on page 3, plus there's a special playlist, at http://www.littleclickers.com/actioncameras.
Other content in this issue includes a new CTREX rubric that you can use to rate the growing number of apps that have some sort of IAP (In-App Purchase). The rubric is called "Contains IAP." Here's that link:  http://reviews.childrenstech.com/ctr/flexrubric.php?id=&rubric=Contains+IAP.
And finally, we list 16 and discuss the "nice touches" that were generated during group discussions at last week's Dust or Magic Language & Literacy Retreat at the Highlights Foundation.
Here are the reviews and previews in in this issue:
A Montessori Approach to Math
And So To Bed – Educational Bedtime Routine App for Children
Annie's Picking Apples
Learning Games
Brainventures
Captain McFinn's Swim & Play
Dr. Panda School
DYI Gamer Kit
ExplorArt Klee – The Art of Paul Klee, for Kids
Find Adventure, Alfie Atkins
Fisher-Price Soothing Motions Seat
FurReal Friends Torch My Blazin' Dragon
Iconia One 10
Infinite Arcade, The by Tinybop*
IQ Safari MATH
Labo Paper Plate
LightUp Edison Kit
MarcoPolo Arctic
Miaomiao's Chinese New Year
MLB The Show
Monopoly Ultimate Banking
Montessori Numbers: Learn to Count from 1 to 1000*
Multiply With Me
Night of the Living Debt
NumberShapes Whiteboard*
Quasi's Quest
Sago Mini Robot Party*
This is My Spacecraft – Rocket Science for Kids
Time Drop – The Colorful Time Travel
Veggie Bottoms Kitchen
View-Master Virtual Reality Viewer 2.0