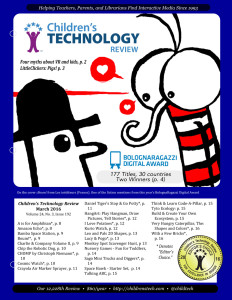 Children's Technology Review
March 2016
Volume 21, No. 3, Issue 192
MAGICAL EXAMPLES: Announcing the Winners of the 2016 BolognaRagazzi Digital Award
The jurors have spoken and the results of the BolognaRagazzi Digital Award (BRDA) are named on page page 4.
For the fifth year, I traveled to Bologna Italy to meet with three other jurors to debate, demo, and discuss 177 fiction and non-fiction digital media products from 30 counties. It was a fascinating treasure hunt full of beautiful music and illustrations. At the end of the two day process we had two winners, four mentions, and eight that were short listed. Each has a story to tell, and is an example of how a modern storyteller can effectively leverage the power of new technologies to communicate with a child.
GET SMART: Exploring VR for Children
David Kleeman, who now works at the UK research firm Dubit, has been thinking about VR and kids. At last fall's Dust or Magic institute, Kleeman identified four myths, as follows: "it's not for kids, it's expensive, it's a long way away, and it's a gimmick."
Here's a link to his talk [CTR subscriber link]. After you've watched the video, you can watch others apply the four ideas in a brainstorm session, also captured on video [CTR subscriber link].
MORE TOY TRENDS: Remember the Nabi Tablet?
Back at the dawn of the tablet, the Nabi tablet (created by Fuhu) was one of the leaders in the Android space. Last year, the entire Nabi line of tablets was acquired by Mattel and was on display at this year's Toy Fair. The result is a case study in the state of Android tablets. Here's a description of the line from Fuhu's Keith Neva [CTR subscriber link]
Also of note — the Space Hawk Sarter Set from Ravensburger — one of the many new AR (Augmented Reality) toys on display at Toy Fair. The transformer-like model flying craft can swallow your phone to become a shooting game or a camera driven augmented reality game experience. Have a look, at https://youtu.be/XtZkPtAvTcM.
LittleClickers: Pigs
Pigs are smart, and can they make good pets. But … did you know that some pigs know how to swim, and they have the ability to smell things that are underground? Let's learn more about the amazing pig on page 3, or at www.littleclickers.com/pigs.
Children's Technology Review
March 2016
Volume 24, No. 3, Issue 192
A is for Amphibian*, p. 8
Amazon Echo*, p. 8
Bamba Space Station, p. 9
Boum!*, p. 9
Charlie & Company Volume II, p. 9
Chip the Robotic Dog, p. 10
CHOMP by Christoph Niemann*, p. 10
Cosmic Watch*, p. 10
Crayola Air Marker Sprayer, p. 11
Daniel Tiger's Stop & Go Potty*, p. 11
HangArt: Play Hangman, Draw Pictures, Tell Stories*, p. 12
I Love Potatoes*, p. 12
Kurio Watch, p. 12
Leo and Pals 2D Shapes, p. 13
Lucy & Pogo*, p. 13
Monkey Spot Scavenger Hunt, p 13
Nursery Games – Fun for Toddlers, p. 14
Sago Mini Trucks and Diggers*, p. 14
Space Hawk – Starter Set, p. 14
Talking ABC, p. 15
Think & Learn Code-A-Pillar, p. 15
Tyto Ecology: Build & Create Your Own Ecosystem, p. 15
Very Hungry Caterpillar, The: p. 15
Shapes and Colors*, p. 16
With a Few Bricks*, p. 16