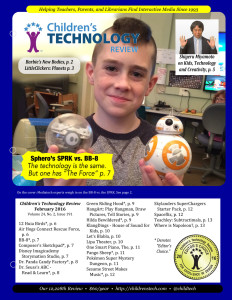 February is always an exciting month for children's technology.
We have an idea about what's coming now that CES and Kids at Play are behind us, but we know there's more to discover with Toy Fair and Digital Kids just a few weeks away.
February is also the month when we do our judging for the world's largest digital storytelling competition: the BolognaRagazzi Digital Award (BRDA).
On the cover this month: a case-study in the brute "force" of branding.
Over the past year we've tested both the Sphero SPRK and BB-8.
Like many toys, both use Bluetooth LE (Low Energy) to leverage the power of your tablet.
BB-8 and SPRK have nearly the same technology, and do the many of the same things and both are equally tricky to control.
But our testers went crazy over the Sphero BB-8, simply because it looked like the robot featured in the most recent Star Wars movie. One has "The Force" of Disney and Star Wars. See the video review for all the details https://youtu.be/v08TIt5JCLA.
Barbie Doll Diversity: Finally
In a pre-Toy Fair announcement, Mattel has announced that this year's Barbie will be available in four distinct body types: Tall, Petite and Curvy, plus the Original Barbie. The new line will include 30 new Barbie dolls, with seven skin tones, 30 hair colors, 24 hair styles and 22 eye colors. We predict a bright future for these low tech Barbies. TTPM's Chris Byrne's analysis (via the Huffington Post)  is worth the read. While we're on the topic of Barbie, you may remember "Hello Barbie" from last year. We predicted it would be "Goodbye Barbie." How accurate was our prediction? While it's still being sold on Amazon.com, Barbie's limited conversation abilities and technical complexity have earned Hello Barbie a 2.3 rating.
President Obama Wants $4 Billion for Computer Science for Kids
"Computer Science for All" is a call for spending $4 billion in the 2017 federal budget to help states pay for computer science education in the schools. The idea is to increase the quality of training and materials, to make technology-related learning accessible to a wider range of people, including girls and minorities. Read more in the New York Times
LittleClickers: Planets
Late January and February is when you can sometimes see five planets in the nighttime sky, with no telescope. Here are some apps, YouTube videos and web sites to help you explore. Learn more on page 3, or at www.littleclickers.com/planets.
Children's Technology Review
February 2016
Volume 24, No. 2, Issue 191
12 Huia Birds*
Air Hogs Connect Rescue Force
BB-8*
Composer's Sketchpad*
Disney Imagicademy Storymation Studio
Dr. Panda Candy Factory*
Dr. Seuss's ABC – Read & Learn*
Green Riding Hood*
HangArt: Play Hangman Draw Pictures Tell Stories
Hilda Bewildered*
KlangDings – House of Sound for Kids
Let's Blabla
Lipa Theater
One Smart Piano The
Pango Sheep*
Pokémon Super Mystery Dungeon
Sesame Street Makes Music*
Skylanders SuperChargers Starter Pack
Spaceflix
Teachley: Subtractimals
Where is Napoleon?
* denotes Editor's Choice