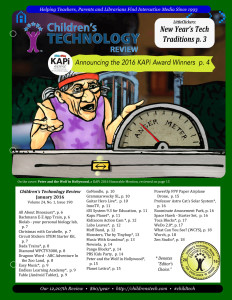 Dear CTR Subscribers —
Two important items to note this month are the implementation of Bluetooth LE technology to strengthen the link between toys and apps (see Edwin the Duck on page 5, or https://youtu.be/t0YfZTMd1TM and WeDo 2.0, on page 17, or https://youtu.be/zgI0EYqkTOg) and Apple's huge announcement about new school management tools that will be part of iOS 9.3, at http://www.apple.com/education/preview.
If these features live up to Apple's promises, they could make it easier for teachers to use iPads, which could make it easier for small publishers to reach the school market.
Also in this issue — the long version of the KAPi press release, with details on each of the winners of the most noteworthy products of 2015, as determined by 14 judges. One of the highlights of the award ceremony, held in Las Vegas at CES, was a prepared video acceptance speech by the "Legend" winner — Shigeru Miyamoto, who revealed some of the secrets of his inspiration. These included time as a child to play outside in caves, and planting gardens. In his talk, he said that "human imagination shines brightest during childhood." It was a pretty cool moment.
LittleClickers: New Year's Tech Traditions
How many LEDs are there in the New Year's Ball in Times Square? Find out on page 3 or visit http://littleclickers.com/new-years-traditions/
Children's Technology Review
January 2016
Volume 24, No. 1, Issue 190
All About Dinosaurs*, p. 6
Bachmann E-Z App Train, p. 6
Biolab – your personal biology lab, p. 7
Christmas with Corabelle, p. 7
Circuit Stickers STEM Starter Kit, p. 7
Dada Trains*, p. 8
Diamond WPCTV3000, p. 8
Dragoon Word – ABC Adventure In the Zoo Land, p. 8
Easy Music*, p. 9
Endless Learning Academy*, p. 9
Fable (Android Tablet), p. 9
GoNoodle, p. 10
Grammarwocky XL, p. 10
Guitar Hero Live*, p. 10
InnoTV, p. 11
iOS System 9.3 for Education, p. 11
Kapu Planet*, p. 11
Kidizoom Action Cam *, p. 12
Labo Leaves*, p. 12
Moff Band, p. 12
Monsters, The by Tinybop*, 13
Music With Grandma*, p. 13
Newsela, p. 14
Pango Blocks*, p. 14
PBS Kids Party, p. 14
Peter and the Wolf in Hollywood*, p. 15
Planet Lettra*, p. 15
PowerUp FPV Paper Airplane Drone, p. 15
Professor Astro Cat's Solar System*, p. 16
Roominate Amusement Park, p. 16
Space Hawk – Starter Set, p. 16
Toca Blocks*, p. 17
WeDo 2.0*, p. 17
What Can You See? (WCYS), p. 18
Worch, p. 18
Zen Studio*, p. 18
Don't miss the Dust or Magic Early Learning Retreat at the Highlights Foundation!
Join us to review the "dust" and the "magic" in children's digital media, with an emphasis on language, literacy and storytelling. The event happens on April 24-26, 2016 (5 PM Sunday – 1 PM on Tuesday) at the Highlights Foundation, Boyds Mills, PA.
Speakers will include Kate Wilson, Nosy Crow; Lisa Guernsey, New America; Katie Paciga, Erikson Institute; Michael Levine, Joan Ganz Cooney Center; coordinated by Gail Lovely, Warren Buckleitner and Daren Carstens.
Cost: $1000, an all inclusive rate that includes housing, gourmet food, a peaceful cabin and a ride to/from NYC.
Register at www.dustormagic.com