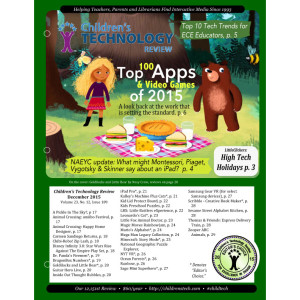 Dear CTR Subscribers —
I'm pleased to present to you with our biggest issue of the year. The fat page count reflects the amazing times in which we live. We'll look back on 2015 as a very significant year for children's digital media. This has been the year that the conservative AAP (American Academy of Pediatrics) admitted that "screen time" is just "time" (http://www.aappublications.org/content/36/10/54), a doll can have the power of Siri, and virtual reality has become a reality. Behind these chaotic shifts in the culture of publishing, we know that the way a young child develops hasn't changed. The best way to make sense of all these new apps, games, tablets and toys is through an old fashioned child development lens, even if it means squeezing into a fancy dress (page 4). Here are some of the highlights from this issue.
What might Montessori say about iPads? "Use them thoughtfully" 
I've written about what various theorists might say about emerging technologies in the past. But last week, I took it a step further when I put on a wig and stepped in front of a microphone. Dr. Maria Montessori was in the house. It took guts, but I was assisted by three other good-natured friends who joined me on stage as Skinner, Piaget and Vygotsky. Behind the silliness was a serious attempt to pull lessons from old theory for modern guidance on how to best tap into the power of technology for the benefit of children. Did we succeed? See page 4, or watch the video https://youtu.be/F6qMTy6fhIM
Presenting the Top 100 Apps of 2015
The central part of this issue is our list of 2015 Editor's Choice selections for children's apps, which conveniently comes out to 100. Each app is quickly described, and sorted by age on page 6.
Recommended Video Games, Toys and Tablets
You can thank Moore's Law. While the number of quality apps has increased, the price of the hardware that can run them has decreased. If you know what you're doing, you can get more bang for your buck than at any other time. See the list on page 16.
High Tech Holiday Lights
In this month's LittleClickers we look at the technology found in holiday light displays. The videos and links are on page 4.
On behalf of Matt, Sarah, Andrea and myself, we wish you a wonderful holiday. We want to remind you that our next issue will be January 15, 2016, and there will be no CTR Weekly on December 30. We'll be turning off our screens for a rest. In the meantime, see you next year!

Children's Technology Review
December 2015
Volume 23, No. 12, Issue 189
A Pickle In The Sky?, p 17
Animal Crossing: amiibo Festival, p. 17
Animal Crossing: Happy Home Designer, p. 17
Carmen Sandiego Returns, p. 18
Chibi-Robo! Zip Lash, p. 18
Disney Infinity 3.0: Star Wars Rise Against The Empire Play Set, p. 18
Dr. Panda's Firemen*, p. 19
DragonBox Numbers*, p. 19
Goldilocks and Little Bear*, p. 20
Guitar Hero Live, p. 20
Inside Out Thought Bubbles, p. 20
iPad Pro*, p. 21
Kalley's Machine Plus Cats*, p. 21
Kid Lid Protect Board, p. 22
Kids Preschool Puzzles, p. 22
LBX: Little Battlers eXperience, p. 22
Leonardo's Cat*, p. 23
Little Fox Animal Doctor, p. 23
Magic Moves RainbowJam, p. 24
Mario's Alphabet*, p. 24
Mega Man Legacy Collection, p. 24
Minecraft: Story Mode*, p. 25
National Geographic Puzzle Explorer, NYT VR*, p. 26
Ocean Forests*, p. 26
Runbow, p. 26
Sago Mini Superhero*, p. 27
Samsung Gear VR (for select Samsung devices), p. 27
Scribble – Creative Book Maker*, p. 28
Sesame Street Alphabet Kitchen, p. 28
Thomas & Friends: Express Delivery Train, p. 28
Zooper ABC Animals, p. 29