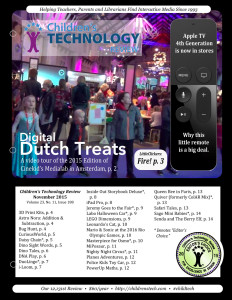 Children's Technology Review November 2015 Volume 23, No. 11, Issue 188
CTR is an ad-free publication. Full access is provided to paid subscribers ($20/year for database access only; $60/year for weekly and monthly access).  Please login or visit the subscription form.
——————————————————————
Welcome to our November 2015 issue preview.
There's much more news than there is time for in this issue of CTR. Some headlines:
Apple TV 4 is in Stores
We knew Apple TV 4th Generation ($150-up) was coming, but we didn't realize how child friendly it was. Case in point, the quantity and quality of children's apps in the new Apple TV App Store (accessible only from within Apple TV).  These include apps that blur the line between "app" and "video."  Read our notes in the November issue.  Please login or visit the subscription form.
Digital Dutch Treats
Last week I attended the kid and family friendly Cinekid festival Amsterdam. Part of the event is called Medialab (no connection to MIT) — a digital playground for children to showcase projects from around the world. Read more in the November issue.
Use Minecraft to Learn Linear/Non-Linear Interaction Tricks
We captured the first chapter of Minecraft Story Mode in order to better understand some of the techniques used by Telltale Games to engage children with the narrative. Have a look at https://youtu.be/J6yfkrl8dAg
LittleClickers: Wild Fires
In this month's LittleClickers we take on a topic that's been in the news a lot this fall — fires. Videos and links are on page 4, or www.littleclickers.com/fire
Children's Technology Review
November 2015
Volume 23, No. 11, Issue 188
3D Print Kits, p. 4
Astro Nora: Addition & Subtraction, p. 4
Bug Hunt, p. 4
CuriousWorld, p. 5
Daisy Chain*, p. 5
Dino Sight Words, p. 5
Dino Tales, p. 6
DNA Play, p. 6
DuoLingo*, p. 7
i-Loom, p. 7
Inside Out Storybook Deluxe*, p. 8
iPad Pro, p. 8
Jeremy Goes to the Fair*, p. 9
Labo Halloween Car*, p. 9
LEGO Dimensions, p. 9
Leonardo's Cat, p. 10
Mario & Sonic at the 2016 Rio Olympic Games, p. 10
Masterpiece for Osmo*, p. 10
MiPosaur, p. 11
Nighty Night Circus*, p. 11
Planes Adventures, p. 12
Police Kids Toy Car, p. 12
PowerUp Maths, p. 12
Queen Bee in Paris, p. 13
Quiver (formerly ColAR Mix)*, p. 13
Safari Tales, p. 13
Sago Mini Babies*, p. 14
Senda and The Berry Elf, p. 14