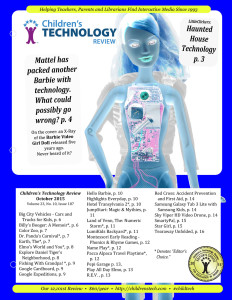 Children's Technology Review October 2015 Volume 23, No. 10, Issue 187
"In a world where 'screen time' is becoming simply 'time,' our policies must evolve or become obsolete." From the American Academy of Pediatrics.
NOTE: CTR is an ad-free publication. Full access is provided to paid subscribers ($20/year for database access only; $60/year for weekly and monthly access). Visit the subscription form.
What's the lowest cost iPad I can get? 
Next time a tempting new phone or tablet is released, don't stand in line. Remember the rule of "ninety – fifty – ten."
A translation: You can get 90% of the functionality of the latest "hot" gadget for about half the cost, simply by waiting 10 months. Here's the formula applied to the latest new iPad. You spend $430 to get an iPad Air for 90% of the functionality. Spend the money you save on apps.
• iPad Air (16 GB, Wi-Fi only) $394 at http://bhpho.to/1Ri4tHL
• Big Grips Slim case, $30 at http://www.biggrips.com/slim.html
Miss the Digital Kids conference? 
Scott Traylor just posted his videos. Here are the links:
Samsung & Fingerprint Launch "Samsung Kids" 
Samsung Kids is a subscription-based $5/month app service designed specifically for the $150 7 inch Samsung Galaxy Tab 3 Lite tablet. The yellow rubber bumper is included. Apps come from Fingerprint Digital. The Android tablet only has 8 GB of internal memory, but can be expanded with a Micro SD card. See page 14. Wonder Workshop Launches Programming Language Wonder is a new app-based langauge designed to let children program their Dash and Dot robots. The language has conditionals, sequences, and state machines; plus coding challenges for ages 8 and up. In addition to Wonder, Dot – the brain of the robot is being released as a standalone product for $50.
Children's Technology Review
October 2015
Volume 23, No. 10, Issue 187
Big City Vehicles – Cars and Trucks for Kids, p. 6
Billy's Booger: A Memoir*, p. 6
Color Zoo, p. 7
Dr. Panda's Carnival*, p. 7
Earth, The*, p. 7
Elmo's World and You*, p. 8
Explore Daniel Tiger's Neighborhood, p. 8
Fishing With Grandpa! *, p. 9
Google Cardboard, p. 9
Google Expeditions, p. 9
Hello Barbie, p. 10
Highlights Everyday, p. 10
Hotel Transylvania 2*, p. 10
JumpStart: Magic & Mythies, p. 11
Land of Venn, The: Numeric Storm*, p. 11
LumiKids Backyard*, p. 11
Montessori Early Reading – Phonics & Rhyme Games, p. 12
Name Play*, p. 12
Pacca Alpaca Travel Playtime*, p. 12
Pepi Garage p. 13,
Play All Day Elmo, p. 13
R.E.V. , p. 13
Red Cross: Accident Prevention and First Aid, p. 14
Samsung Galaxy Tab 3 Lite with Samsung Kids, p. 14
Sky Viper HD Video Drone, p. 14
SmartyPal, p. 15
Star Girl, p. 15
Tearaway Unfolded, p. 16