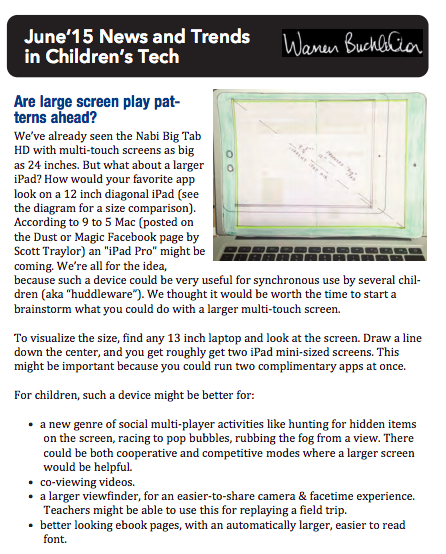 The iPad Pro was announced today. What are the implications for children's apps?
We've already seen preschool installations of large screen Microsoft Surface, and the large Android-based Nabi.
And of course we know that kids love collaborative play at the water and sand table. How could you use a large, affordable retinal display?
It turns out that our sketch documenting the dimensions was quite accurate.
To visualize the size, find any 13 inch laptop and look at the screen. Draw a line down the center, and you get roughly get two iPad mini‐sized screens.  This might be important because you could run two complimentary apps at once. For children, such a device might be better for:
Such a device could be very useful for synchronous use by several children (aka "huddleware.")  In addition, Apple released a $100 stylus.
A new genre of social multi‐player activities like hunting for hidden items on the screen, racing to pop bubbles, rubbing the fog from a view. There could be both cooperative and competitive modes where a larger screen would be helpful.
Co‐viewing videos.
Stylus based activities, for higher resolution play.
a larger viewfinder, for an easier‐to‐share camera & facetime experience. Teachers might be able to use this for replaying a field trip.
Better looking ebook pages, with an automatically larger, easier to read font.
Apple says the iPad will be in stores "November 2014″ starting around $850.
Stay tuned.