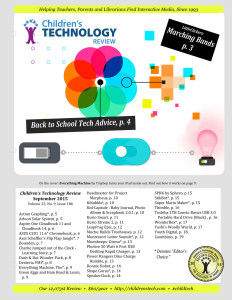 Children's Technology Review
September 2015 Volume 23, No. 9, Issue 186
Note: Full issues are reserved for Full Subscribers ($60/year for 12 issue, plus Weeklies every Wednesday). Visit the Subscription Form.
Back to School Tech You can get a lot more bang for your buck in technology these days, but it helps if you know what you're looking for. On page 4, we've put together some practical advice, plus a CTREX link to over 40 helpful apps and products. Not on the list: a ziplock gadget bag for your child's backpack, just in case it rains.
Better, Cheaper Chromebooks, Cloudbooks & Tablets The LeapFrog Epic (p. 12) and the Kurio Smart (p. 11) are important products to note, if for no other reason than they represent a new operating system direction for the companies that make them. The Epic is named well, because it's the first LeapFrog device in the history of the company to be able to run non-LeapFrog apps. While it has the familiar green child profiles, it won't be able to run LeapPad software. Kurio Smart by KD Interactive represents a move from Android to Windows. Both devices have strengths and limits described in this issue.
Branding 101: Lessons from Edoki and Google
Business meets Montessori, in a Dust or Magic AppCamp talk given by Valérie Touze, now live at https://youtu.be/055l9LmKIlU. The talk describes the challenge of rebranding Les Trois Elles (the old name) to Edoki, while striving to keep the values the same. On a different scale, Google has also changed it's brand, from brand when we first reviewed it in 1998, and the modern 2015 brand.
LittleClickers: Marching Bands
Fall means changing leaves and football. But for some, the main event is when the marching band takes the field. The shows take months to design and it requires getting hundreds of people to work in perfect unison to make giant moving images that are set to music. Let's learn more about the wonders of Marching Bands. Here's the link!
Children's Technology Review
September 2015
Volume 23, No. 9, Issue 186
Reviews or future releases in this issue:
Action Graphing*, p. 5
Arloon Solar System, p. 5
Aspire One Cloudbook 11 and Cloudbook 14, p. 6
ASUS C201 11.6″ Chromebook, p. 6
Axel Scheffler's Flip Flap Jungle*, 7
Bounden, p. 7
Charlie Jumped out of the Clock – Learning Story, p. 7
Dash & Dot Wonder Pack, p. 8
Dexteria VMI*, p. 8
Everything Machine, The*, p. 9
Green Eggs and Ham Read & Learn, p. 9
Headmaster for Project     Morpheus, p. 10
Kibobble!, p. 10
Kid-Capsule : Baby Journal, Photo Album & Scrapbook 2.0.1, p. 10
Kurio Smart, p. 11
Kurio Xtreme 2, p. 11
LeapFrog Epic, p. 12
Mochu Builds Treehouses, p. 12
Montessori Letter Sounds*, p. 12
Moonbeeps: Gizmo*, p. 13
Photive 50 Watt 6 Port USB Desktop Rapid Charger, p. 13
Power Rangers Dino Charge Rumble, p. 13
Ronnie Robot, p. 14
Shape Gurus*, p. 14
SpeakerClock, p. 14
SPRK by Sphero, p 15
StikBot*, p. 15
Super Mario Maker*, p. 15
Thimble, p. 16
Toshiba 1TB Canvio Basics USB 3.0 Portable Hard Drive (Black) , p. 16
WonderBox*, p. 17
Yoshi's Woolly World, p. 17
Youth Digital, p. 18,
Zoombinis, p. 19
* Donotes an Editor's Choice selection