NOTE: Below is a look at one of our sample weekly issues, sent to paid CTR subscribers. We always start with a timely or inspirational quote, and then list the week's headlines. Next we give you a closer look at three noteworthy apps. These issues are sent by email at 8:30 AM every Wednesday. Want to start getting them? Become a CTR Pro Subscriber for just $60/year.
"In popular review sites that do NOT charge fees, think about how they make their money. Is it by subscription? Syndication? Events? Affiliate sales links? Corporate funders? Subsidized by foundations, grants, or research? Selling award seals, products, or licensing and use fees? A freemium pay gate to more robust research? Look deeper into their criteria to see what it is they VALUE and how they gauge quality."  From "Children's App Reviews: Does Money Talk?" by Amy Jussel at http://www.shapingyouth.org/childrens-app-reviews-money-talks/
Chromebook vs. Cloudbook vs. MacBook — Which is best?
That depends on how much money you want to spend of course. If you can afford it, get a MacBook Air. But there are now some very tempting sub-$200 laptop options, including many types of Chromebooks — and for the first time, a new cluster of Cloudbooks — Microsoft's answer to Google and Apple. Cloudbooks will come in many shapes, sizes and prices, but each will be powered by Windows 10. One of the first is the $170 Acer Aspire One Cloudbook 11 (a more expensive 14 inch model will be out in September). According to Acer PR it's for  "those looking for an online-oriented and portable notebook with a full Windows experience."  On first glance, it looks just like a Chromebook, which also took it's primary design cues from Apple's MacBook Air. But each device leads to a very different type of cloud; with long term data storage consequences. It's wise to remember that children's interactive media has a chicken and egg relationship with hardware, so you have to keep your eye on both.
This week in children's interactive media
The Zoombinis are on your iPad. But can they share the stage with the likes of Slice Fractions? The long awaited iPad edition of the Zoombinis (aka The Logical Journey of the Zoombinis, CTR 1998) still has the original Zoombini storyline — complete with that wonderful, corny narrator. But sadly it doesn't do much to exploit the multi-touch features of the iPad. It's like the poor Zoombinis are stuck in the 1990s. We've decided to delay our review until we can test the final version, with the correct target age group. (So far, we've had two college-age players make it all the way through, with angst). If you have experience with the new Zoombinis, please post your review on CTREX (but wait until we've posted the review … probably by next week).
Robots = Sprites that move. This has been a big week for programmable robots, with three new releases. The first is the Sphero SPRK (Orbotix, $130) which uses a Scratch-like language so you can design movement/light routines. Sphero now also is compatible with Tynker. See the preview video. We also just updated the review of Dash & Dot Wonder Pack, Wonder Workshop, ($280 on iPad, iPhone, Android). We liked how easy this robot was to control by way of an Android or iOS (Apple) device. You can also snap LEGO blocks onto either robot to expand what you make. Here's the CTREX writeup; and the preview video https://youtu.be/iyUb4aDGL4E. And finally, Ozobot Bit (the latest edition of the small rolling, optical-sensing robots) can now use Google's Blockly programming language. There is no need for cables or Bluetooth – you transfer your commands from any browser to the robot through flashing spots on your screen, by way of the robot's optical sensor.
3 Noteworthy Apps This Week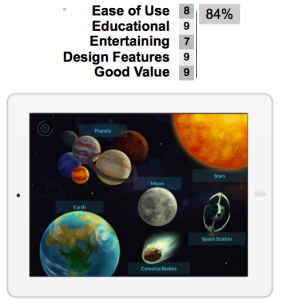 Arloon Solar System, Arloon www.arloon.com, ($1.99 on iPad, iPhone, iPod Touch (iOS 8.0 or later), Android, Windows), for ages 9-up.
Why we like it: Featuring clear graphics and some clever ways to visualize the objects in the solar system, this app contains a mixture of multiple-choice quizzes, interactive explorations and visualization techniques that include an AR (augmented reality) activity that lets you point your camera at a printed QR code, to see the planet floating as a 3D image. It's like having your own Saturn, floating over your coffee table.
Need to know: The navigation is less than Snazzy (this isn't TouchPress) and the planets are often shown way out of scale. But the app does a nice job helping children visualize some abstract concepts including how eclipses work, the Earth's trajectory, rotations, orbits and so on. Don't miss the animated cut-away cross section of the earth. To print out the card as a PDF, visit www.arloon.com.
ADVANCED REVIEW: COMING THURSDAY TO ITUNES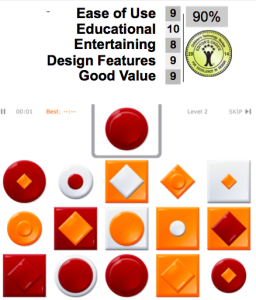 Dexteria VMI, BinaryLabs, Inc. ($3.99 on iPad (iTunes code coming), for ages 3-6.
Why we like it: Featuring a clean, responsive, well designed interface, Dexteria VMI (stands for Visual Motor Integration) is a set of activities designed to "measure and practice visual tracking and visual-motor skill integration." This app is obviously designed to be a professional's tool, but it could easily work in any type of ECE/Early Elementary setting. There are two sets of puzzles, each involving clear attributes and a responsive interface. Teacher features include a timer and the ability to skip levels; plus tracking for multiple children.
Need to know: There's no narrative elements at all in this app — this is all about clean sorting.
Video preview: https://youtu.be/aq8Vxkt__Qo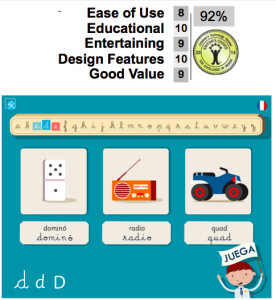 Montessori Letter Sounds, Edoki, ($4.99 on iPad, iPhone, iPod Touch (OS 7.0 or later), for ages 3-5.
Why we like it: This is a responsive, dual-language early English reading skills app that delivers a whole-lot-of early reading skills curriculum bite for the money. Children earn marbles as they complete four types of phonetic exercises, or they can freely experiment using five open ended letter exploration modes. The most powerful and noteworthy feature is the ability to turn on a second language for the instructions, from six available (American/British English, French, Italian, Spanish and German). Game modes include I Spy, Letter Sounds, Mix and Match and Sound it Out. All four steps are included in this version but two games are locked at first and get unlocked as the children play and win marbles. There are also options for script, cursive or capital letters; and you can record your own.
Need to know: As with any phonics flashcard-style activity, children (and some adults) will be confused by some of the items used to illustrate words. They may call the the "Narwhal" a "Fish" for example.  We also didn't care for parts of the main menu that advertise other apps from the publisher (you should be able to turn this off in the Settings).
Video preview: https://youtu.be/KG_-N__l8_k