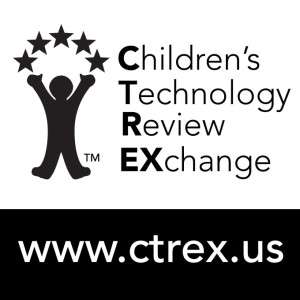 The latest version of CTREX costs less, is easier to use, and it has more features

CTREX 2.0 mixes new search tools with accurate, unbiased educational information on the latest interactive media products for children. It also comes with a new family-friendly price of just $20/year.
FLEMINGTON, NJ (7/01/15) — Children's Technology Review has released the second of four planned versions of CTREX (Children's Technology Review Exchange) … the world's largest online collection of educational reviews of children's interactive media. CTREX is designed to help parents, teachers and librarians choose interactive media products for children aged birth to 15.
The release comes with a lower price of just $20/year for database access only, which is less than the cost of one poorly selected video game. A new "Pro" version ($60/year) provides access to a publisher directory and MARC record friendly exporting tools. The database works with mainstream browsers on any device, and is available today at www.ctrex.us.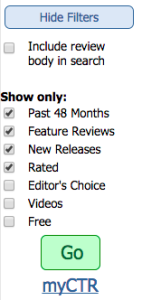 "CTREX 2.0 is designed for dynamic list manipulation," said Matt DiMatteo, CTR's Director of Publishing. "Once you start exploring, you'll stumble upon filters for such things as age, platform, or curriculum area that make it easy to match apps to a child or learning setting."
In addition to the dynamic tools, a set of continually updated "one click" Custom Picks lists can help you build a digital library quickly. Currently there are 39 lists, which include:
15 iPad apps for summer learning.
52 "starter apps" for a young child's first tablet.
31 apps for programming.
41 apps we think Maria Montessori might like.
62 top-rated Android apps for children.
47 video games for library settings
TRUSTWORTHY. CTREX is an alternative for people who have grown tired of the online anarchy found in too many app stores or gimmicky review sites. It has been called the gold standard (by Newsweek) of review sites for a reason. The ratings are based on rubrics made during doctoral-level research, and the project is

funded solely by subscriber fees. There are no underlying motives, like expedited reviews, sponsors, hidden consulting activities, affiliate links or social agendas. This is the review service our children deserve, financed by the people who use it.
DEMOCRATIC. Any review is a statement of opinion, and software information changes rapidly. CTREX addresses this issue by giving both subscribers and publishers the ability to respond to a review.
AUTHORITATIVE. Started in 1993, Children's Technology Review is the longest running continually updated list of children's interactive media products, with 11,864 reviews published as of 6/29/15, including apps, digital toys and video games. The database has been the backbone of many respected editorial projects and prize initiatives over the years, reaching millions of parents, teachers and librarians. CTR has worked or is working in close partnership with organizations such as the Consumer Reports WebWatch, The New York Times, School Library Journal, the Bologna Children's Book Fair, CES, and NPR. And starting July 2, 2015, CTR Editor's Choice selections will appear on Google Play at g.co/play/ctr
AVAILABILITY. CTREX 2.0  is available now through the new URL, www.ctrex.us. No registration is required in the guest mode, which gives you the five latest reviews, free.
TAKE A TEST DRIVE
Go to http://ctrex.us
Log in with username VIP and password CTREX for full, free access to the Pro version ($60/year). This password will work until July 15. If you'd like to buy a subscription at that point, you can use the promocode "tenbucks" to receive $10 off the price of a Pro subscription.
COSTS
Subscription rates are $20/year for basic database access; or $60/year for a "Pro" option that includes database access, as well as the CTR Weekly, CTR Monthly, and the online publisher directory.
For more information about Children's Technology Review, visit http://www.childrenstech.com or call 908-284-0404 or 800-993-9499.
Images and Videos
Home page screen capture:  link
CTREX Logo: link
CTREX Editor Warren Buckleitner explains the CTREX process: https://youtu.be/HFYHssLuChA