Click here to subscribe
.      
App store rating techniques: Are they gimmicks or useful?
During the Dust or Magic Masterclass in Italy last month, I sat in on sessions by both Apple and Google on app store "best practice." Both urged children's developers to build engagement by driving parents to the app store to leave good comments and ratings. As a rater who tries to quantify "dust" and "magic" I was surprised that the app store would want customers to game the system. This reduces the validity of the ratings. But this is what happens when the same organization (Apple or Google) wears two hats, both as a store who wants you to buy something, and as a curator who wants to help you avoid bad choices. How's that work?
Consider The Robot Factory by Tinybop, who made one of the best children's anatomy apps, and a pioneer in building a community around an app.
The first time you play, parents are asked "Do you love this app?" and given two options: yes or no. If no, you're taken to an email form to contact the publisher and the rating link goes away. If yes, you're taken to iTunes to leave a rating. Is this inflicting bias?  That's for you to decide. But it may be helpful for you to know how it works.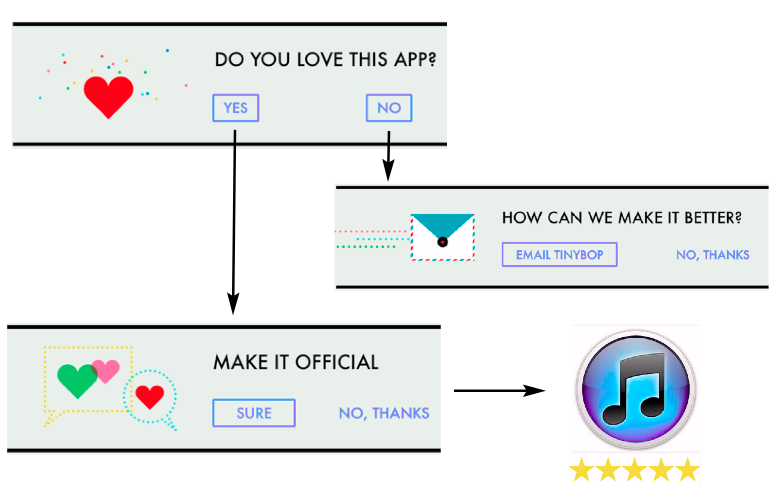 PUBLISHER RESPONSE: I do understand the concern with pushing people to review apps, it has the potential to skew opinion to one group of people with false reviews. However, as a community builder, I know that in practice this is never the case. Only the smallest group of very engaged and passionate people are going to leave a review because the barrier of entry (actually writing the review), is worth the time for a product they care about. With this feature, we actually have done more to increase the number of inbound emails I receive with support questions, 90% of which I am able to resolve right away and hear a positive response from parents and caregivers.
Due to the nature of the App Store, when comments, bugs, and questions, are left in reviews we are not able to get in contact with people in our community to fix or troubleshoot issues. Those easily solveable comments then skew the reviews and ratings — which can be a big deal to independent developers like us.
I think this feature has had a positive overall affect on our community because parents can see that we care about listening and we are eager to solve the problems they encountering. Having a helpful interaction with a company like ours builds trust with customers and does a lot for our sustainability as a business.
Kika Gilbert, Tinybop
The power of "flipping" an app
Speaking of ratings, we love it when a developer figures out how to increase them, the old fashioned way: by increasing factors related to child engagement. Case in point: The last two apps from Cowly Owl, Dinosaur Mix vs. Monster Mingle. One "pushes" ideas (rating = 54), the other lets the child drive them (rating =92). Only one is on the cover of this month's issue. Watch the review, at https://youtu.be/7ol2onusKFM
What is Maker Faire?

Here's a way to get smart, fast on what Maker Faire is, and isn't; with plenty of ideas. From your May LittleClickers (free to the public, thanks to Computer Explorers).

QUOTE TO NOTE: Reading text is an amazing cognitive accomplishment… ".. to completely analyze what we do when we read would almost be the acme of a psychologist's dream. For it would be to describe very many of the most intricate workings of the human mind, as well as to unravel the tangled story of the most remarkable specific performance that civilization has learned in all its history." Edmund Burke Huey, in an important 1908 paper called The Psychology and Pedagogy of Reading.

TITLES IN THIS ISSUE

Acer Chromebook C740, p. 4 Arloon Plants, p. 4 Auto Repair*,  p. 5 Back Soon – Parents Vacation, p. 5 Billy's Coin Visits the Zoo*,  p. 5 Bop Underwater,  p. 6 Candy Craft Chocolate Pen, p. 6 Choo Parr, p. 6 Find All,  p. 7 Freddie Wants Sausage, p. 7 Galxyz Science Adventure, p. 7 Gruffalo Games, p. 8 HEXBUG Aquabot Remote Control Angelfish, p. 8 HEXBUG Aquabot Seahorse, p. 8 iBaby Monitor M6, p. 9 iwerkz Bottle Blaster, p. 9 Laser Maze Jr.*, p. 9 Lucky's Tree of Puzzles,p. 10 LumiKids Beach*, p. 10 MakerBot PrintShop 1.5, p. 11  Mario Party 10, p. 11 Middle School Confidential 3: What's Up With My Family?*, p. 12  MIT App Inventor, p. 12 MLB 15 The Show, p. 12 Monster Mingle*, p. 13 Moonbeeps: Hide & Seek, p. 13 Motion Math: Cupcake!, p. 14 Pango Hide & Seek*, p. 14 Pompeii Touch, p. 15 Pry, p. 15 Robot Factory, The, p. 16 Sago Mini Toolbox*, p. 16 Scribbaloo Train, p. 17 Senda and The Berry Elf, p. 17 Sky Viper Video Drone, p. 17 Sonic Boom: Rise of Lyric, p. 18 Star Wars Battlefront, p. 18 Thinkrolls*, p. 19 Thinkrolls 2*, p. 19 Time for Kids Classroom, p. 20 Water Bears*, p. 20  

Children's Technology Review May 2015 Volume 23, No. 5, Issue 182   The full issue is available by subscription only.