Children's Technology Review
April 2015
Volume 23, No. 4, Issue 181
>> Subscribe to download the issue <<
News and Trends
An App Done Well: My Very Hungry Caterpillar
Here's a recipe for magic: Take two talented Irish brothers, the artwork of Eric Carle, a young father's need for a bedtime story, and the rights to digitize one Very Hungry Caterpillar.  The result is the winner of the 3rd Annual BolognaRagazzi Digital Award, which considered 193 entries from 27 countries.
Why did this particular title rise above the others? Because, for the first time, the ownership of the caterpillar shifted, from Eric Carle to a very young child.
Get a quick overview of all the winners, see the juror's video https://youtu.be/tPHa4aGl3z0, or listen to the story of making this app, here https://youtu.be/9PBJLr66v0w
Mobile Technology is for Kids. Right? (A fictional discussion)
It's a sunny day in the spring of 1977 at MIT, and Alan Kay is in town to chat with Seymour Papert about his Dynabook concept. He's wondering if he could actually make a functional unit for less than $500.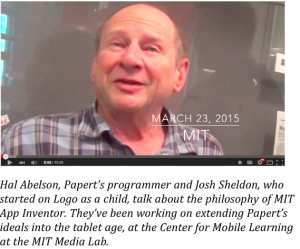 Suddenly, with a puff of smoke, Steve Jobs appears. "Gentlemen," "And ladies," he said, acknowledging Cynthia Solomon and Edith Ackermann. "Put your Dynabook away. Woz and I have something better. It has a clear color multi-touch screen, built in Wi-Fi, all day batteries and it's insanely revolutionary." He places an iPad on the table.
Kay's cheeks become red. "Seymour and I have been talking about what Piaget would do with this mobile technology. We want a computing environment that allows children to construct knowledge, not just consume pre-digested ideas.
Can a child make things, break things and try out powerful ideas with your iPad?"  Meanwhile, Papert and one of his programmers, Hal Abelson, have been exploring the iPad. They've become transfixed by Monument Valley.
"I have to say I agree with Alan," said Papert. "This is an incredible device, and I offer my congratulations to the designers. But it is the programmers like Woz who have experienced the power from the code. So it has been their mindstorm. I'm thinking about the children who will use this. We need computing tools that will put the common child in the driver's seat, so they can experience the power." Hal Abelson pipes in. "If you really want a revolution, make Xcode (Apple's exclusive authoring language) available to every middle schooler.
"You can, said Jobs." "Xcode is free to download from my personal cloud." "But it's $99.99 per year to actually publish something," argued Abelson. This iPad won't be able to run the open source stuff we're thinking about making, like Logo, Scratch or MIT App Inventor. I'll stick with Alan's open source option, or hope that something else comes along."  Ackermann agrees. "While Steve's iPad has huge potential, it increases the chance that a child will spend time using powerful technology to do un-powerful things, like watching a cartoon, or slingshot a bird for hours on end."
Subscribe for the full article 
Makers in the Library
Caution: sharp or hot tools might make great childhood memories. 
Last weekend at the Mediatech Foundation in Flemington, the first annual Makersday was held. Over 200 local residents came to the second floor of the Flemington Library to "make." Here are some of the activities, listed with the most popular at the top of the list.
Breaker Day – Dissect old electronics to see how they work. We supplied basic tools, gloves, safety goggles and plus some interesting gadgets including an old lawn mower engine.
Egg Drop – Can you make a structure that can protect a raw egg from a 30 foot drop? And if you can't, can you help clean up the mess? We broke over 60 eggs. Tip: keep a trash can near the drop zone.
DiY Lightbulb – We're just 30 miles from where Edison made the first lightbulb. Can you repeat history using the lead from a mechanical pencil and eight 'D' batteries? Tip: Watch the instructional video first. This idea came from the NJmakersday team.
Spirit of St. Louis Flight Simulator — Try to take off and land the Charles Lindbergh's famous plane, the Spirit of St. Louis. You'll need a flight controller and on older Windows computer that can run Microsoft Flight Simulator A History of Flight.
Do You Want to Build a Snowman – Because it snowed, we supplied show shovels and decorated a 8 foot snowman with electronic parts taken from the "Breaker Day" station.
Subscribe for the full article 

Did you know…
The biggest freshwater fish in the world is the Beluga Sturgeon that grows in Russia. It can grow up to 15 feet, and weigh 2,500 pounds. See LittleClickers on page 3 or visit www.littleclickers.com/fishing
Titles in this issue
500 Coloring Pages
ABC Gurus
Amazing Quest, The
Biber and the Red Boots
Blue Planet Tales, Educational Children's Bookshelf
Bluebee Pals
Crazy Gears
Domi Domi Blocks
Elmer's Photo Patchwork
Fossil Fighters Frontier
Happy Draw Bug – Shapes, Letters & Numbers
HEXBUG Aquabot Jellyfish
iO – A Physics Platformer
Kate & Mim-Mim: Funny Bunny Fun
Kids Phonics
Labo Fabric Friends
LEGO Ninjago: Shadow of Ronin
Linkitz
Noggin
Pacca Alpaca
Play Opera
President's New Clothes, The
Pup's Quest for Phonics
Quick Math Jr.
Snow White
Toy Brush 3D
Turbo Flip Thomas
Understanding Math – Addition and Subtraction
Very Hungry Caterpillar and Friends First Words
We are the Chuggineers
Wuzzit Trouble