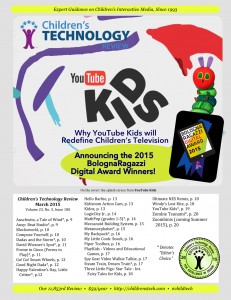 Welcome to our free issue preview page. It's designed to tease you with a taste of free wonderful, accurate, timely, objective content. You'll like what you see, and will consider subscribing. Thank you. 
Special offer: Save $10 with this code: tenbucks at the secure subscription form. 
Children's Technology Review March 2015 Volume 23, No. 3, Issue 180
ANNOUNCING THE 2015 BOLOGNA RAGAZZIDIGITAL AWARD WINNERS
Which interactive media products raised the bar on a global scale when it comes to storytelling and story making? This year there was one winner, four mentions and ten short list selections, out of 192 entries. The jurors made a video commentary that explains the reasoning behind the choices. See page 4.
THE ANNUAL TOY FAIR HUDDLE VIDEO
Did you miss Toy Fair last month? Don't worry. We made a video that summarizes the big trends, which include cloud-based toys like the latest edition of Barbie, called "Hello Barbie," the maker movement, and the further influence of apps. All were discussed in some detail at this year's annual Toy Fair Huddle, which has been posted as an unlisted link.
LITTLECLICKERS: OIL RIGS
Chances are, the gas in your mom or dad's car came from some type of oil rig. The rigs at sea are like mini cities with exercise rooms and helicopters. Which one is the biggest? What's it like to work on one? What happens if there's a hurricane? See page 3 or visit
FEATURE ARTICLE: The Influence of YouTube Kids on Children's Television
Back in the olden days children learned to tune a rabbit ears antenna or search for the remote. Here's why YouTube Kids will indelibly change (what's left of) children's television …