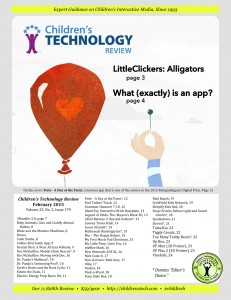 Children's Technology Review February 2015 Volume 23, No. 2, Issue 179   — THIS IS PREVIEW CONTENT. THE FULL ISSUE IS AVAILABLE TO PAID SUBSCRIBERS  ($59/YEAR)– Visit the
subscription form for instant access
.     Letter from the Editor: 
WHAT (EXACTLY) IS AN APP? It took a rogue pediatrician in Utah to inspire this month's lead article. According to my Google News alerts, Dr. Marty Nygaard was quoted in the St. George Daily Spectrum saying "every exposure a child has to screens, there is a risk of them developing ADD."
For Dr. Nygaard, apparently an app could be like a toxin. This might be true, but there are other less careless points of view. Others might see that same app as a tutor, a link to a grandparent or a programming experience. So, I decided to look at screen content from an inside-out point of view, which is important to do if you're in the business of rating, making or using screen-based content with children. What (exactly) is an app? It's complicated. See page 4.
COMING IN YOUR MARCH CTR: THE BEST IN DIGITAL STORYTELLING
As you read this, we're judging the entries in the 2015 BolognaRagazzi prize. One of the contenders is on this month's cover, but also because of the responsive, original design. See Fiete A Day at the Farm on page 12 and Loose Strands on page 14. Stay tuned for more.
MORE TOOLS FOR THE QUANTIFIED KID
Two products in this issue give new meaning to the concept of "the quantified kid."  Edwin the Duck can measure the temperature of your child's bathwater, and the Smart IQ Kids mattress can send you an email alert that tells you if your child stayed in bed all night. Is this a good thing?  Share your thoughts online.
LITTLECLICKERS: ALLIGATORS
What's the difference between a crocodile and an alligator? Find out on page 3, or by visiting http://littleclickers.com/alligators/.
REVIEWS and PREVIEWS IN THIS ISSUE:
3Doodler 2.0, page 7 Baby Animals: Cute and Cuddly Animal Babies, 7 Blaze and the Monster Machines, 8 Bruno, 8 Code Studio, 8 Collins Bird Guide App, 9 Dentist Bird: A West African Folktale, 9 Doc McStuffins: Mobile Clinic Rescue*, 9 Doc McStuffins: Moving with Doc, 10 Dr. Panda's Mailman*, 10 Dr. Panda's Swimming Pool*, 10 Earth's Rocks and the Rock Cycle, 11 Edwin the Duck, 11 Electric Energy Prop Racer Kit, 11 Fiete – A Day at the Farm*, 12 Fuel Tanker Truck, 12 Grammar Hammer 7-10, 12 IdentiToy Interactive Brick Baseplate, 13 Legend of Zelda, The: Majora's Mask 3D, 13 LEGO Batman 3: Beyond Gotham*, 13 Looney Tunes Dash, 14 Loose Strands*, 14 Mathseeds Kindergarten*, 15 Mia – The Happy Helper, 15 My First Music Pad Christmas, 15 My Little Pony: Cutie Pox, 16 myBlee Math, 16 New Nintendo 3DS XL, 16 Nick Code-It, 17 Nico & Draco: Bath time, 17 Ollie, 17 Ozobot, 18 Peek-a-Word, 18 Pony Style Box, 18 Risk Ranch, 19 SeaWorld Kids Network, 19 SleepIQ Kids Bed, 20 Snap Circuits Deluxe Light and Sound Combo*, 20 Speakaboos, 21 Storest*, 21 Tales2Go, 22 Tiggly Counts, 22 Too Many Teddy Bears*, 22 Up Box, 23 UP Mini (3D Printer), 23 UP Plus 2 (3D Printer), 23 Vinekids, 24