A Child's Mattress that Sends eMail? C'Mon Now
(reprinted from CTR Weekly January 17)
---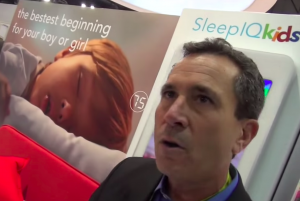 I'm just back from CES (the International Consumer Electronics Show) in Las Vegas where I helped Robin Raskin's team run a day long Kids and Family tech show.
One of the regular KAP speakers is author/consumer tech expert David Pogue who talked about about "the quantified self" — describing some of the more interesting devices that "self track" behaviors.
His examples were mostly related to exercise or other leisure habits. I had to wonder, what does it mean for children?
The next day, on the show floor I discovered a prime example — the SleepIQkids Mattress ($1000, by Sleep Number). The mattress has embedded sensors that can detect your child's movement in bed, including his or heart rate. The information is sent to your smart phone of choice — so you can check your child's sleeping patterns from across the world if you like. Is this a good thing? What do you think?
OTHER DISCOVERIES AT CES
I also discovered  3Doodler 2.0, a $100 free sculpting pen, and Meccano, a new building system from Spin Master. Details for both are in CTREX.
Finally, if you watch just one CES video, have a look at a talk called Bridging the Generation Gap, given by film maker Brenda Rusnak, who asks "we all know that kids are digital natives but what happens when they impart their digital wisdom to an older generation?"