NOTE: CTR is a 23 page PDF available to subscribers. This is a free preview content.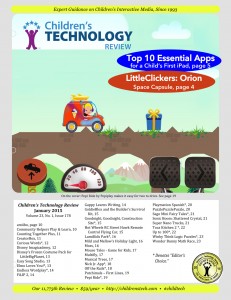 Children's Technology Review
January 2015
Volume 23, No. 1, Issue 178
REVIEWS IN THIS ISSUE  amiibo, page 10 Community Helpers Play & Learn, 10 Counting Together Plus, 11 CreatorBox, 11 Curious Words*, 12 Disney Imagicademy, 12 Disney's Frozen Costume Pack for LittleBigPlanet, 13 Easy Song Studio, 13 Elmo Loves You!*, 13 Endless Wordplay*, 14 FiLIP 2, 14 Gappy Learns Writing, 14 GoldieBlox and the Builder's Survival Kit, 15 Goodnight, Goodnight, Construction Site*, 15 Hot Wheels RC Street Hawk Remote Control Flying Car, 15 LumiKids Park*, 16 Mild and Mellow's Holiday Light, 16 Moss, 16 Mouse Tales – Game for Kids, 17 Multifly, 17 Musical Trees, 17 Nick Jr. App*, 18 Off the Rails*, 18 Patchimals – First Lines, 19 Pepi Ride*, 19 Playmation Spanish*, 20 PuzzlePuzzlePuzzle, 20 Sago Mini Fairy Tales*, 21 Sonic Boom: Shattered Crystal, 21 Super Nano Trucks, 21 Toca Kitchen 2 *, 22 Up to 100*, 22 Winky Think Logic Puzzles*, 23 Wonder Bunny Math Race, 23 * = Editor's Choice   TO SEE THE REVIEWS WITH RATINGS, PLEASE SUBSCRIBE ($59/year for 12 issues)
| | | |
| --- | --- | --- |
| | | |
| [embedit snippet="13338"] | [embedit snippet="1yearBuy"] | [embedit snippet="2yearsBuy"] |
Login to renew an existing subscription
| | |
| --- | --- |
| Do you have a promotional code?  | [promocode] |
NEW YEAR'S PREDICTIONS
What will the next 12 months bring for children's interactive media? Using the past 12 months as a guess, plus last year's predictions, here are some safe guesses.  
• It may seem obvious, but we'll see a lot more children's iOS apps. We all know that the last four years have given tens of thousands of viable children's interactive products. But we're just getting started. Affordable, powerful authoring tools like Unity and a growing installed base of iPads will create even more app choices. This increase in supply will make it even harder for smaller publishers to get noticed. 
• The Android app space continues to be an afterthought, at least for many leading app designers, and this is too bad. We think Google should do more to make Android tablets easier to use, and it should make the Google Play experience more publisher-friendly, so they can make Google pay. Read more.
LITTLECLICKERS: ORION
Want to go to Mars? You'd ride in Orion, NASA's newest spacecraft.  Did you know your iPhone has more computing power than the Orion's computers?  We were suprised to see that NASA uses PDF coloring sheets to help children "learn" about Orion. It's time for NASA to hire Dan Russell (see Off the Rails) Pinson to create an Orion flight simulator.  Visit www.littleclickers.com/orion
FIVE NEW CTREX FEATURES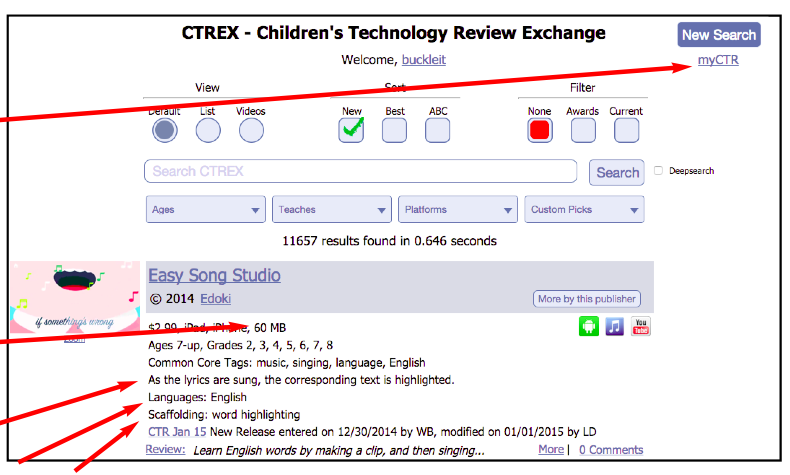 We've added four three new fields to our online reviews, as follows:
MyCTR (to accompany your profile). 

One click, and you can search the CTREX database according to a pre-set search criteria that you create in your saved subscriber control panel.  To program your URL, login to CTREX and select your user name. You'll see a series of checkboxes that will let you start using this feature.

App size. This is handy for knowing how long the download might take, or how much room the app will take on your device.

Minimum language skill required to use the experience. This is also called MUC (Minimum User Competency). We'll describe any specific skill prerequisites a child might need in order to use the app.

 

Native Language. This includes any listed translated languages that the app lists as an option. Note that we don't test every language option.

 

Language scaffolding. How does the app help a non-reader?  A non-reader (or non-writer) to a reader (or writer). This might include text highlighting, tutorials, hints or other techniques.  Our latest improvement to the CTREX database is a special URL that you program, which will appear in each weekly issue of CTR.
RECENT DUST OR MAGIC VIDEOS
Toy guy Chris Byrne talks about some of the things that make dust in the products he reviews, in WTF??? It's Not What You Think It Means. http://youtu.be/WblMHI0y-7U
Chip Donohue of the Erikson Institute shares some highlights from his recent book, in a talk called Back to the Future: Lessons in App Design from Mister Rogers at http://youtu.be/sIeWMAlrE6c
Kate Highfield's talk gives us a global view, in The View on Children's Interactive Media from OZ at http://youtu.be/SRk15lWHUdM
QUOTES FROM THE PAST FOUR CTR WEEKLIES
"I think right now we are at a moment where there is a much bigger commercial opportunity for those who want to push beyond stereotypical gender roles. The culture is at an inflection point and you can feel it." Chris Heatherly, Senior Vice President and General Manager, Disney Interactive Kids; posted last week on the Dust or Magic Facebook group.
 "My generation was born in the past and brought into the future, but the next generation was born in the future and are molding it into an even more unthinkable, fantastic generation of technology innovation."  Theresa Sotomayor, a Senior in the TCNJ IMM Program in her Thesis project presentation.

TOP 10 ESSENTIAL APPS FOR A CHILD'S NEW IPAD
What if there were a great, wise and all knowing expert who could automatically find the "best 10 apps?"   Of course this is an impossible task. At CTR we should know … our most frequently asked question is why we've picked this particular headline.  In order to actually find the "best" ten apps for your child, we'd have to first ask you a lot of questions.  Next we'd give you a suggested list (actually 40 apps) and a customized link to help you make your own choices. It all happens on page 5. Subscribe for the entire article.