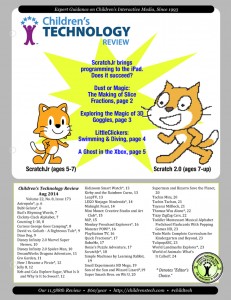 Children's Technology Review Aug 2014 Volume 22, No. 8, Issue 173
The following is a summary of the issue. The full issue is sent to paid subscribers by email. To get this issue, please use our subscription form.
There's a new kitten on your iPad's screen… and he wants to play.
Our testers — already familiar with Scratch (Sr) found ScratchJr to be initially frustrating.
Tester comments includes "No multi-touch, so you can't easily resize things," "how do you get the camera to work?" and "how do you share projects?" What's important to know is that because ScratchJr runs on the iPad, it's a very different product, so comparisons aren't really possible. The best thing to do is to download a copy and test it yourself. You'll find that despite the learning curve, you'll soon be able to make a few scripts.
Full details on page 18 (subscribers only).
Apple's in-app labels are good, but not enough… Here's what should be done.
The Picky Teacher applauds Apple's decision to put the label 'In-App Purchases" directly below the word "free," but feels that it's not enough. Responsible app stores that sell children's content should also include the PCR (Potential Consumer Risk) of a product, so you can see how much you could spend if you purchased every conceivable item. For example, the PCR of both Disney Infinity and Skylanders is well over $500, if you purchased every collectible item. That's common sense.
Dust or Magic Case Study: Making Slice Fractions
Dany Joly and Francois Boucher-Genesse of Ululab made one of our favorite educational apps called Slice Fractions. Here is their presentation at Dust or Magic Appcamp. Some key quotes:  "A tutorial is like duct tape. They're good to have, but you don't want to have to rely on it" and "If you give three instructions, kids will only hear the last one in the sequence. So why not make the last one the only one?" (Mark Schlichting, during the feedback at the end of the video). See http://youtu.be/aIE6hDnzyVU.
Sites and Videos for Swimming and Diving How long can you tread water, or hold your breath?  What's the fastest swimming animal in the world?  Here are amazing sites and videos about swimming and diving. See page 4 or visit http://littleclickers.com/swimming-and-diving/
Exploring the attention-grabbing potential of 3D Goggles
As I was playing with prototype games on Sony's new Project Morpheus, I started to wonder if the actual power that this new type of hardware offers may be less about the senses it enhances, and more about what it removes. More on page 3, or at http://youtu.be/n9qRMLHL8Zg
The Ghost Inside the Xbox
The deeply moving story of what happens when a young man discovers his dead father's saved game. See page 5
Titles in this issue:
Children's Technology Review
Aug 2014 Volume 22, No. 8, Issue 173 Astropolo*, p. 6 Bubl Gelato*, 6 Bud's Rhyming Words, 7 Clickity-Clack Alphabet, 7 Counting 1-10, 8 Curious George Goes Camping*, 8 David vs. Goliath – A Righteous Tale*, 9 Dino Dog, 9 Disney Infinity 2.0 Marvel Super Heroes, 10 Disney Infinity 2.0 Spider-Man, 10 DreamWorks Dragons Adventure, 11 Gro Garden, 11 How I Became a Pirate*, 12 Jelly 8, 12 Keb and Cala Explore Sugar, What Is It and Why Is It So Sweet?, 12 Kidizoom Smart Watch*, 13 Kirby and the Rainbow Curse, 13 LeapTV, 13 LEGO Ninjago: Nindroids*, 14 Midnight Feast, 14 Mini Monet: Creative Studio and Art Club*, 15 MiP, 15 Monkey Preschool Explorers*, 16 Monster POW!*, 16 PlayStation TV, 16 Quick Fractions*, 17 RoboMe, 17 Roxie's Puzzle Adventure, 17 ScratchJr*, 18 Simple Machines by Learning Rabbit, 19 Small Experiments HD Mega, 19 Son of the Sun and Wizard Lizard*,19 Super Smash Bros. on Wii U, 20 Superman and Bizarro Save the Planet, 20 Tachin Mini, 20 Tachin Tachan, 21 Tayasui MiBlock, 21 Thomas Was Alone*, 22 Tizzy ZigZag Cars, 22 Toddler Montessori Musical Alphabet PreSchool Flashcards With Popping Games HD, 23 Todo Math: Complete Curriculum for Kindergarten and Beyond, 23 TulipopABC, 23 World Landmarks Explorer*, 23 World of Animals: What's It Called?, 24