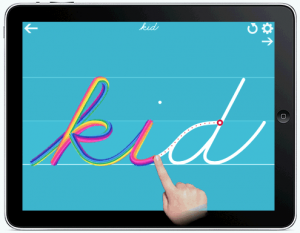 Pierre Abel is living proof that you can make a solid living making children's apps without the help of a big PR firm or licensed characters. You don't need a fancy studio name, or even to be a resident in the country where you make most of your money.
It turns out that apps that are made in France export more easily than cheese and wine.
Consider Abel's company name — L'Escapadou — which was the street name where Abel was living when he started his company in Southern France. It's a word that is nearly impossible for a non-French speaker to say or spell.
But to many USA teachers and parents, it has come to mean quality, which is partly why L'Escapadou's fifth app, Cursive Writing Wizard, has been so successful. While the process of publishing apps is not easy, here are some steps to help you get started. These came from Abel's presentation at AppCamp, which you can watch, at http://youtu.be/PXXht2_7cSM.
Understand the "Magic" of user interface. Pierre didn't stumble into good app design by chance. He holds a Ph.D. in computer science and has worked in the past as a user interface designer. He's been making games since the Apple IIGS. 
Understand kids. Children are the best teachers, however, you have to learn how to learn from them. You might use Dan Russell Pinson's approach, by living with a young play expert (Pinson cites his daughter as his primary inspiration, and teacher). I've noticed many excellent apps come from homeschooling parents who love to code. 
Understand USA pedagogy. Ask Don Rawitsch about what can happen when a wave of teachers start using your app. If you make a curriculum-friendly product, teachers will use it, buy it and recommend it. Rawitsch's app, made in the late 1970's was called Oregon Trail (see http://youtu.be/QhaojwIIgqs to hear how Oregon Trail was made). Cursive Writing Wizard was designed with teacher options that make it easy to individualize the experience to a child. In addition, Pierre Abel successfully included the three most popular handwriting styles in the app, so it fits perfectly with lessons being used in every early elementary classroom in the United States. 
Understand ASP (App Store Psychology). Like Toca Boca, Pierre experimented with prices carefully and used free trials and cross-promoting to ratchet up his downloads. He trusted that once people sampled his quality, they'd be back with dollars.