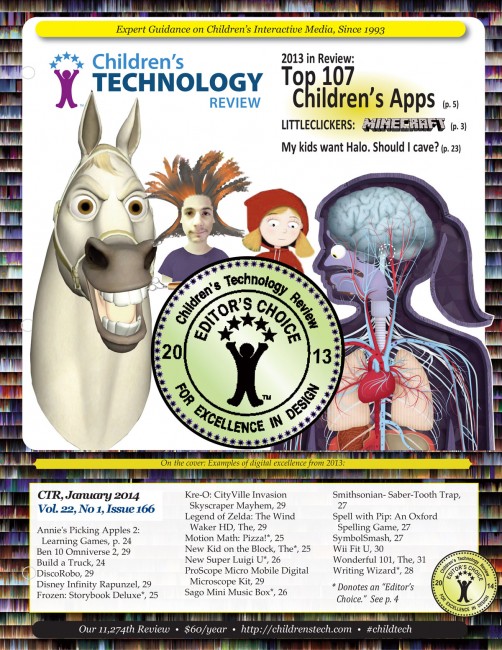 Children's Technology Review
January 2014
Volume 22, No. 1, Issue 166
NOTE: CTR is an ad free publication.
This is a preview of the January issue. The full issue is available to paid subscribers.
The past year has seen a dramatic increase in the number of commercial children's interactive media products, even more than the previous five years, combined. For better or for worse, that growth is controlled by one company, for one platform (see page 4). As we charge into 2014, here's a look at the past 12 months from our point of view. 
BETTER HARDWARE = BETTER SOFTWARE
Of the 24 platforms we've reviewed products for, all but eight are extinct.

The DVD/CD-ROM as a software delivery vehicle is now dead, except for use with game consoles; last year it joined the eight track and cassette tape as obsolete vehicles for delivering content.

Children's apps published by Amazon and Google have continued to improve in both quality and quantity, but incrementally when compared with Apple.

Android tablets are increasingly being used by companies like Toys R Us to deliver curated collections of apps.

Complexity is stunting the growth of the Android platform, however, the 2nd best option for children comes from two Apple rivals: Samsung and Google in the form of the Samsung Galaxy Tab 3 Kids ($200, Samsung).

Living room interactivity got a big boost this year due to large, affordable HD screens and two new video game consoles (the PS4 and Xbox One). We now know what the next five years of video games will look and play like.
APPLE'S DOMINANCE HAS INCREASED
Apple's iOS tightened its grip on children this year; iTunes is now the epicenter for innovation and creativity on a global scale.

We estimate that there are about 47,500 viable iOS apps for children. 

The most affordable device that accesses these apps is last year's $300 16 GB non-retinal display iPad Mini.

Of the iOS apps release this year, 107 that received a rating of 4.3 or higher on our instrument. They are listed on page 7.
CHILDREN'S INTERACTIVITY REMAINS FOGGY AND CONFUSING TO MOST ADULTS
Business agendas are easy to find in children's interactivity, despite government and industry attempts to regulate the space, however 2013 brought an increase in good practice, including better age-gates and labels about in-app purchases.

The debate over the appropriateness of using technology with young children is in the early stages and will continue throughout 2014, as indicated by recent books by NAEYC and the debate around the Fisher-Price iPad seat.
More details about these trends in on page 5.
LITTLECLICKERS: MINECRAFT
In case you've been stuck in an attic for the past five years, Minecraft is an online world that you can build, create and control all on your own. Never heard of it? Here are some FAQs about this incredible virtual world. Page 3, and at http://www.littleclickers.com/minecraft
MAILBAG: HELP! MY KIDS WANT HALO. SHOULD I CAVE?
Some common sense advice for a neighbor in distress (p. 23) 
REVIEWS IN THIS ISSUE
Annie's Picking Apples 2: Learning Games, p. 24

Ben 10 Omniverse 2, 29

Build a Truck, 24

DiscoRobo, 29

Disney Infinity Rapunzel, 29

Frozen: Storybook Deluxe*, 25

Kre-O: CityVille Invasion Skyscraper Mayhem, 29

Legend of Zelda: The Wind Waker HD, The, 29

Motion Math: Pizza!*, 25

New Kid on the Block, The*, 25

New Super Luigi U*, 26

ProScope Micro Mobile Digital Microscope Kit, 29

Sago Mini Music Box*, 26

Smithsonian- Saber-Tooth Trap, 27

Spell with Pip: An Oxford Spelling Game, 27

SymbolSmash, 27

Wii Fit U, 30

Wonderful 101, The, 31

Writing Wizard*, 28