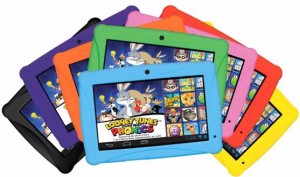 And in this corner… weighing in with a price 1/3 less than nearly every other kids tablet this fall — and Walmart distribution — the ClickN KIDS  Tablet ($100, from ClickN Kids). That's $50 cheaper than  the XO tablet, Kurio, Tabeo and the LeapPad Ultra —  
It's also the same price as the VTech InnoTab 3 and the LeapPad.
But is it any good? Pre-loaded content includes 30 apps including Looney Tunes ClickN READ Phonics, developed by J. Ron Nelson, plus a two interface design — one for kids, the other for parents. We've never heard of Nelson, and have yet to see the curriculum.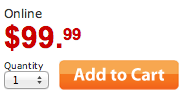 Here are the bullet points:
8 colors, gel case protection

7 inch screen

Custom Android interface

Timer 

Front-facing camera

PreK-3rd grade content. 

8GB storage expandable to 32GB

Built-in stereo speakers

Dual-core processor

Battery life of up to 5 hours

Wi-Fi
PEOPLE mentioned in the press release, w/associated quotes.
Armie Carabet, CEO of ClickN KIDS. "We are excited to be the first to launch a Dual Interface tablet that is affordable, and loaded with features that make it functional for almost everyone, adding value, for the entire household."
Karen McTier, EVP of Worldwide Marketing and Domestic Licensing at Warner Bros. Worldwide Consumer Products. "The new ClickN KIDS tablet now makes our iconic characters available through the leading device of choice for consumers of all ages, the tablet, and we could not be more excited."