August 2013 Volume 21, No. 8, Issue 161
This is an excerpt letter from the editor, from the August 2013 issue of 
Children's Technology Review — an ad-free publication and review database supported by subscribers. Subscriptions cost $30 per year for 12 monthly issues. Not a subscriber? Visit the Subscription Form. 
Welcome to the 161st Issue of Children's Technology Review, featuring 41 reviews, our comments about the baby app advertising controversy, a new app/toy viral strategy, a fight over some Hexbug fish and some practical back to school technology advice from people smarter than me. Here's what you need to know for this month: 
Back to School Tech Tips: A Little Help From My Friends
In preparation for a NYTimes Back to School article, I put out a request for technology suggestions. I didn't have room for everyone's suggestions in the article, so I'm listing them here. The number one back to school necessity for 2013 is, as you might expect, reliable Internet access along with a laptop or some other device to serve as a portal. Here are some other suggestions; thanks to everyone who responded.
Neal Hoskins: pick up an eReader (e.g., an old Kindle or fire-sale Nook) for distraction free reading, almost smash proof and carry a library in your backpack, plus no charger needed for weeks on end.
Robin Raskin:  Life360 is a virtual private network that can show you where your kids are at all times… can be useful with kids out all over the place. Pad and Paper: start your research away from the computer and map out what you're looking for. It'll keep you on focus. Study sessions with friends on Google Hangouts.
Gail Lovely, in response to my suggestion about having a charging station near a child's bed so they could charge their phone/alarm clock as they sleep, wisely added "have a family charging station away from the child's bedroom so they don't text into the wee hours of the night."
Barbara Chamberlin: What about time to think about learning with apps. Rather than being too concerned about 'screen time' group all of your math apps on a swipe screen, and have your learner spend 30 minutes each night playing his or her favorite math app, teaching them to learn how to make judgements about quality, encouraging exploration, and modeling educational 'play'. Also great for reading apps, or creative apps (spend 30 minutes with one of these 'creating' something). That time often expands as kids who – though normally playing Angry Birds space non stop – discover how much fun one of these 'other' apps is).
Tom Farmer: Smartphone cover/charger. When phone bat is low, flip the switch and it charges the phone in 15 mins. Kids can't tell mom "didn't get your message… low battery." 
Ren Baldwin: Cozi family calendar app is great.
Warren Buckleitner: Thanks to all who contributed. Happy back to school! 
Something Fishy About the New Hexbug Aquabot

When you review hundreds of products, you can notice similarities between competitive products. How many sling-shot type of game apps were there before Angry Birds? When I reviewed Robo Fish by Zuru last year (CTR October 2012) I recall thinking that it seemed like the type of product that Innovation First (the Hexbug folks) would make.
I've since learned what was going on, and it offers a behind-the-scenes look into the competitive, globalized world of children's toys (isn't it ironic that this is about toy sharks?)
According to Innovation First's law firm, a Chinese-based Innovation First employee defected to another company called Zuru with trade secrets. The conflict has been resolved, although you'll still see both brands of fish in some catalogs. The lawyers have done their work, money was passed, and the fish can swim. One can't help but note the name of Innovation First's law firm: Fish & Richardson. More details with a YouTube comparison video
Apps as Freebies: As American as Apple Pie
I've been teaching a programming class at the Mediatech Foundation this summer, where 8 of the 13 kids walked in the door with smart phones or iPod touches (all Apple, no Android). Now there were older kids — 9 and up — mostly middle school and I would judge all of them to be able to conceptualize money.  I noticed three things: 1) all of the kids have their iTunes password. This means they have complete control over buying apps and understanding when they are spending and no spending; 2) They are fluent with the idea of downloading apps, trying them out, making in-app purchases, and then deleting free apps that annoy or bore them; 3) They are acutely aware of  not spending money. Many parents use gift cards to limit how much they can spend.  
Returning to my office in the afternoon, I received a pitch promoting a free coloring book app called Epic Coloring & Storybook Builder from Fox Home Entertainment. Reading the PR prose as a cultural anthropologist (who wouldn't?), I made some observations as I try to figure out how all these free apps are shaping the children's digital space. 
There will be an increasing amount of free app content designed to be downloaded by children with or without their parent's knowledge. 

Most kids 10 and older have their iTunes password.  

Quality will vary; but some free apps are actually pretty good. 

Consumers and kids are getting used to using the idea of download codes and seeing value in such practice.

This concept is new — it couldn't have existed a few years ago. 

These apps compete with paid content which is bad news for anyone with a $.99 or $1.99 coloring book. These types of apps will be downloaded by parents, not kids. 

This practice is what happens when capitalism meets an app store psychology/reality. 

Children and parents will have more digital clutter, and will need to develop a new set of "apps as freebies" skills, as part of being literate. 
Zoom way out and take a social/cultural/economic view. Capitalism is how the US economy functions. Freebies are part of this they aren't going away. We might not like "freemium" apps or "free with ads" or in-app sales. But they'll never go away. It's as American as Apple Pie.  Read more at http://childrenstech.com/blog/archives/12327
Why Furby Boom is Like a Virus (and Why You Should Care)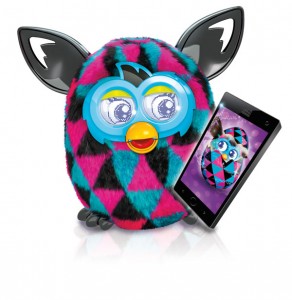 The 2013 edition of Furby, called Furby Boom ($65, www.hasbro.com) uses a new interesting social transmission type of play strategy that uses a free app and egg trading. The play patterns are tried-and-true, and they depend on the proliferation of children's mobile devices, which serve as the carriers for Furby eggs. Five — or even two years ago, such a toy couldn't exist. It's like a "virus," because so many children have smart phones on which they can be "infected" with the eggs  (Pew says 47% of all children now have the devices with prerequisite technology requirements, as of last year).
A toy company like Hasbro has a clear objective — to sell more, obviously, or "infect" as many young customers as possible. If you have one Furby, it's more fun to have two, and if your friend has one, they can have an egg. That egg can be traded on an iPod Touch on the playground or bus. Think of your mobile device as a Furby DNA carrier, or a conduit to connect a society of Furby individuals. Ready or not, here come another layer of sophistication in how toys use connected technology. Boom.
I'm not saying this is good or bad; but I am saying that every adult should understand this new type intersection between marketing and play. Here's a video with Kris Paulson, Furby's Lead Designer, about how Furby works. http://youtu.be/d0cx-VM9jJc
Should App Ads be Regulated?  Here's My Response to the Campaign for a Commercial Free Childhood's FCC Complaints
The Campaign for Commercial Free Childhood (CCFC) has struck a nerve by sending complaints to the FTC, charging the makers of apps for babies with false advertising. I was asked by several news outlets for my opinion, including this set of six questions from Bloomberg news. If I was teaching a college class, I'd ask each of my students to come up with their own answers. Because this issue is hard to reduce to sound bites, here are the answers beyond "these charges are silly."  Fasten your seat belts and enjoy the controversy.
Coming in September The Next Gen Children's Tablets 
I've been watching OLPC for many years, which is why we're especially eager to kid-test Vivitar's XO Tablet. Will it live up to Nicholas Negropontes dream?