by Warren Buckleitner
Duchess Kate isn't the only celebrity having a baby this week.
Today (July 22, 2013)  Hasbro announced that the 2013 edition of Furby, called Furby Boom ($65, www.hasbro.com) can be ordered online and will be in toy stores next month. Furby Boom, unlike previous Furby editions, can now reproduce in virtual form, providing you have a free app installed on your smart phone or tablet.  
Why is Furby Boom important? It uses a new interesting social transmission type of play strategy that uses a free app and egg trading. The play patterns are tried-and-true, and they depend on the proliferation of children's mobile devices, which serve as the transfer mechanism.  Five years ago such a toy couldn't exist.
I'm trying not to use the word "virus," because of the negative connotations. But there are similarities, in part because so many children have smart phones (Pew says 47% as of last year)  and the way eggs are traded.
Hasbro's objective is to sell more, obviously, or "infect" as many young customers as possible so that there will be Furby toys alongside your child's comparably-priced American Girl doll or LEGO Star Wars set this fall. In the past, a toy company would rely on top down advertising to do the job. 
If you have one Furby, it's more fun to have two, and if your friend has one, they can have an egg together.  That egg can be traded on an iPod Touch on the playground. Think of your mobile device as a Furby DNA carrier, or a conduit to connect what used to be an isolated Furby individual to the larger society. Boom.
Will it work? Probably, even at $65, Furby is fun and does a lot, and there are plenty of hidden surprises, including the ability to visit the bathroom. You just never know what will pop out of that egg. Things are helped along, because a solo Furby works just fine as a stand alone toy, and the app has stand-alone games, too. But when they are put together, that is when things get interesting.
HOW IT WORKS At first glance, Furby Boom looks and acts  like the 2012 edition, with the same eyes, size and batteries (four AA). The fur is softer and the voice is noisy. Cosmetic differences include notched ears, cloth feet and your choice of six fur patterns, with another six planned by the year's end. Inside, however there are some important differences — 2x the memory, the ability to learn slang from other Furbys, 12 new personalities, and most importantly, the ability to work with a free app to extend the Furby-related play onto screens. For the first time, you can collect eggs from your friend's Furby, adding a reproduction/collection twist to the Furby play, that makes you want to continue meeting and buying additional Furbys. Things get more fun if your Furby meets other Furbys, and you and/or your friend has a smart phone that can run the free Furby app. And most children do these days. 
Note: Don't mix up this new app with the last year's Furby app. The 2013 edition won't be in app stores until the toys are in stores. Both the app and the toy can work independently from one another; when used together, they compliment and enhance one another. This is a value add situation.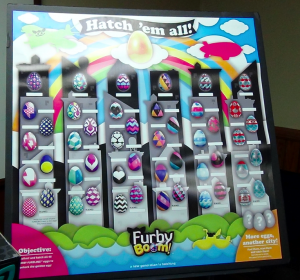 LAYING AN EGG The app gives Furby the ability to lay eggs which can be stored and hatched inside the app. One app can store up to 12 eggs, and 49 Furblings. Once you get 50, you can earn special Golden Egg. Hasbro has worked hard to keep Furby genderless (they avoid the terms he/she in all marketing communications), however laying eggs will probably tip the hat toward female. We'll leave that call to you. You start by installing the app, and getting the app and your Furby talking. This happens through sound. Your App emits very high sounds, as does your Furby, and both can hear one another. Furby can communicate with the onscreen baby through sounds, and there's a strong Tamagotchi play pattern, where you  care and nurture your baby Furbling, giving it a bath, feeding it and playing with it. More interaction with both you and the parent means more development and more Furbucks (the on-screen currency) which can be used to buy more toys, things for the house, and so on, until your Furby goes to live in an apartment in the city where it waits for your visit. In the meantime you can raise another Furbling. You can store up to 50 grown Furblings inside one app; at which point you get to hatch a Golden Egg. 
A COLLECTING PLAY PATTERN. Borrowing from the tradition of Webkinz, with a dash, perhaps of Moshi Monsters, you are encouraged to start meeting other Furby owners. Every time you meet another Furby, you can collect a new egg, giving Furby owners a reason to find one another (and buy more Furbys). Mix in a bit of a Webkinz business model, and you can see what Hasbro has in mind.
TWO VIDEOS We talked with Kris Paulson, Furby's Lead Designer about how Furby works.  CTR's Ben Kates created two videos — one short (below), and for those wanting more detail, longer 12 minute version. We've embedded  the short video.
Here are some other Furby Boom facts. 
* You can now put your Furby to sleep by pulling its tail for 10 seconds. Furby yawns and starts a quiet slumber until he is moved. This is an important new feature because it rubs against the original "it has it's own life" philosophy. For the first time, a frustrated parent has an "off" option and can silence Furby's famous banter.
• The Furby App can easily communicate with your tablet or smart phone, as long as the app has been installed and started. No syncing or pairing is required. The tablet and Furby communicate via  "audio watermarking technology", which has also been called digital chirps — basically high frequency sounds that Furby can send or receive.
• Eggs hatch rather quickly, and turn into Furblings. You can also collect eggs from friends, or pick up eggs by scanning QR codes in toy stores.
• This is a worry-free, closed information eco-system, with no possibility of identity transfer, chat, or personal information sharing. In other words, Furby is safe.
• There are no in-app sales. The app is free; Hasbro makes money by selling more Furbys or Furby-related stuff in toy stores.
• You'll see Furby advertised on TV and in other places this holiday season.
• Your Furby can have a name. According to Paulson 'there are about 120 possibilities."
• A dashboard in the app quickly tells your Furby's status, much like a Tamagotchi, the first virtual life toy.
• Both are powered by four AA batteries, and can be equally annoying to any nearby adult. Because Furby also turns itself off, battery life is no problem.
• To lay an egg, you start the Furby app, and put your Furby within earshot of your tablet. You aren't sure how your newly hatched Furby will turn out, so there's a surprise element.
• Furby Boom isn't cheap. It costs $65; $5 more than last year's edition.
• Last year's Furby won't work the new Furby Boom app. But they can "talk" and sing in concert.