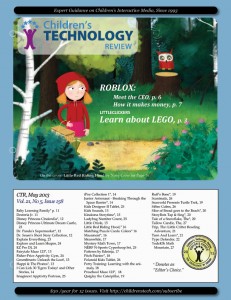 Children's Technology Review, May 2013 Volume 21, No. 5, Issue 158 CTR is available by subscription (12 issues per year, $30).
Try a sample, or subscribe.
Welcome to May. Here's a preview of our issue:
LittleClickers: Interesting Facts About LEGO
We've all seen, and certainly stepped on those famous sharp cornered LEGO blocks. But where did they come from, and what can you make with them? Let's test your brain, with some LEGO trivia. See page 3 or visit http://littleclickers.com/legos to download the PDF.
Roblox: Where it Came From, and How it Makes Money
This month, we take a closer look at a virtual construction material, namely ROBLOX. Our coverage is divided into two parts — first Scott Traylor interviews Roblox CEO David Baszucki (page 6) to get a publisher's view. Next, CTR Intern Matthew DiMatteo asks "How Do They Make Money" (page 7) taking us on a first person tour of the ROBLOX service from a "free" point of view. He also looks at Moshi Monsters, not as a comparison, but to see if there were similarities in how "free" accounts are handled. What he discovered in both was unsettling. Children who log in for a free account are entering the lowest layer of a caste system, best described as a sophisticiated experience engineered to get them to pay. They will be tempted with virtual goodies that are fully in view, and made to feel left out of areas that they can see others visiting. Matt does a nice job describing how it all works.
Two Excellent Videos from the eBook Retreat
I was reminded of the power of small groups of smart, passionate people last month at the Highlights Foundation in Honesdale, PA when a small group of very smart designers and researchers met on the occasion of the first Dust or Magic eBook Retreat. Here's a slide show http://bit.ly/Yzd6Ey. Our goal was to take a close look at the best and worst practice in children's digital publishing, and based on our evaluations, the event was successful so you can count on another next year. Sadly we didn't have Scott Traylor on hand to record the presentations, but we were able to capture two of the talks.
Jeremy also captured this 360 degree view of the room, so you can pretend that you were standing there, in first person
On the Cover… Little Red Riding Hood from Nosy Crow .. just one of the excellent Editor's Choice titles you'll find in this month's issue. See page 16.
CTR, May 2013 Vol. 21, No 5, Issue 158
REVIEW IN THIS ISSUE (Page Number * denotes Editor's Choice)
Baby Learning Family* p. 11 Dexteria Jr. 11 Disney Princess Cinderella*, 12 Disney Princess Ultimate Dream Castle, 23 Dr. Panda's Supermarket*, 12 Dr. Seuss's Short Story Collection, 12 Explain Everything, 23 Explore and Learn Shapes, 24 EZ Pro DJ, 24 Fairytale Maze 123*, 13 Fisher-Price Apptivity Gym, 24 Green$treets: Unleash the Loot!, 13 Happi & The Pirates*, 13 I Can Lick 30 Tigers Today! and Other Stories, 14 Imaginext Apptivity Fortress, 25 iPoe Collection 1*, 14 Junior Astronaut – Breaking Through the Space Barrier*, 14 Kids Designer II Tablet, 25 Kids Sounds, 15 Kindoma Storytime*, 15 Ladybug Number Count, 25 Little Oriole, 15 Little Red Riding Hood,* 16 Matching Puzzle Cards: Colors* 16 Mazement*, 16 Meanwhile, 17 Mystery Math Town, 17 NERF N-Sports Cyperhoop Set, 25 Patterns by Edninja, 17 Pitch Painter*, 18 Polaroid Kids Tablet, 26 Potty Training: Learning with the animals, 18 Preschool Maze 123*,  18 Quigley the Caterpillar, 19 Ruff's Bone*, 19 Scanimalz, 26 Seaworld Presents Turtle Trek, 19 Sifteo Cubes, 26 Slice of Bread goes to the Beach*, 20 StoryBots Tap & Sing*, 20 Tale of a Snowflake, The*, 20 Tallow Candle, The, 27 Trip, The: Little Critter Reading Adventure, 21 Turn And Learn*, 21 Type Defender, 22 YodelOh Math Mountain, 27