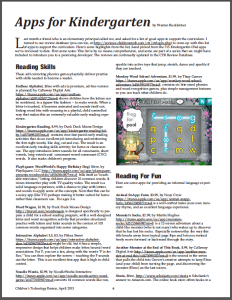 by Warren Buckleitner
Last month a friend who is an elementary principal called me, and asked for a list of good apps to support the curriculum. I turned to our review database (you can too, if you are a subscriber, at http://reviews.childrenstech.com/ctr/ctrlogin.php) to come up with this list of apps to support the curriculum.
Here's some highlights from the list, hand picked from the 715 Kindergarten iPad apps we've reviewed to date.
First some notes: This list is by no means comprehensive, and some are part of a series that we might have included to introduce you to a promising developer. The reviews are continually updated in the CTR Review Database.
To access the list, download this article as a PDF, which contains pages from the April issue of CTR.