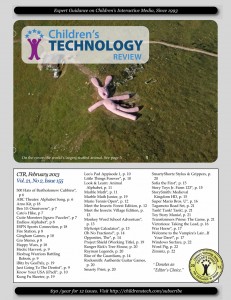 In this issue: CTR, February 2013: Vol. 21, No 2, Issue 155
 Welcome to February!
Here are this month's headlines:
• CONFERENCES & EVENTS. The American International Toy Fair is hosting two tech-related events (Digital Kids and the Safety Summit); in addition there's Kid Screen's iKids which includes the iKids awards. I'll be watching for promising new applications of technology, in particular the relationship between tablets, apps and toys.
• SOMETHING IS BREWING AT SONY. Last fall we had the Wii U. This month, it's Sony's turn. On February 20, the PlayStation group will announce what many believe will be the next generation console (the PS4?). Watch for details in our March issue.
• DUST OR MAGIC Hurricane Edition was held last month. Many of the demos and presentations are posted, thanks to Scott Traylor. This year was thick with presentations which you can find @dustormagic. Videos include Mark Schlichtings Advice for Young Whippersnappers, Drew Davidson's Dust Diaries  and a visit from Toca Band's Stikk Figga .
• A NEW BLOG from the Fred Rogers Center will try to "to expand the dialogue on the potential of digital media to support early learning and development."  Here's to raising the quality of discourse (conversation) above the current standard set by the Huffington Post and the Guardian. Have a look, at  http://www.fredrogerscenter.org/blog/
 Ebooks
We're currently judging for the Bologna Ragazzi eBook prize with jurors André Letria, Chris Meade and Christina Mussinelli. We've already had over 100 entries and some are completely amazing. The winners will be announced next month, and discussed in depth during our training event: Dust or Magic eBooks. If you're interested in digital storytelling, this will be a busy few months.
Stuffed Animals
Guess what? There are no beans in Beanie Babies. This month's LittleClickers contains this and many other facts about stuffed animals. You'll even see a stuffed rabbit that is so big that it can be seen from Google Earth! You'll learn some other interesting facts about stuffed animals.
Quality has Never Been This Good
Ready for some good news? In the 29 years I've been reviewing children's digital products, I've never seen so many quality products, at such a low price. The proof is on page 4, were we summarize the 18 Editor's Choice titles for this month.
Coming Next Month! eBooks
We're currently judging for the Bologna Ragazzi eBook prize with jurors André Letria, Chris Meade and Christina Mussinelli. We've already had over 100 entries and some are completely amazing. The winners will be announced next month, and discussed in depth during Dust or Magic eBooks. If you're interested in digital storytelling, this will be a busy few months
 500 Hats of Bartholomew Cubbins*, p 6
ABC Theater: Alphabet Song, p. 6
Arno Kit, p 18
Ben 10: Omniverse*, p 7
Cato's Hike, p 7
Cutie Monsters Jigsaw Puzzles*, p 7
Endless Alphabet*, p 8
ESPN Sports Connection, p 18
Fire Station, p 8
Gingham Games, p 18
Gro Memo, p 8
Happy Wars, p 18
Hectic Harvest, p. 9
Hexbug Warriors Battling        Robots, p. 9
iBitz by GeoPalz, p. 19
Just Going To The Dentist*, p. 9
Know Your USA (iPad)*, p. 10
Kung Fu Skeeter, p. 19
Leo's Pad Appisode 1, p. 10
Little Things Forever*, p. 10
Look & Learn: Animal          Alphabet, p. 11
Marble Math*, p. 11
Marble Math Junior, p. 19
Mario Tennis Open*, p. 12
Meet the Insects: Forest Edition, p. 12
Meet the Insects: Village Edition, p. 13
Monkey Word School Adventure*,  p. 13
MyScript Calculator*, p. 13
Oh No Fractions!*, p. 14
Opposites, The*, p. 14
Project Shield (Working Title), p. 19
Ranger Rick's Tree House, p. 20
Rayman Legends, p. 20
Rise of the Guardians, p. 14
Rocksmith: Authentic Guitar Games, p. 20
Smarty Print, p. 20
SmartyShortz Stylus & Grippers, p. 20
Sofia the First*, p. 15
Story Toys Jr. Farm 123*, p. 15
StorySmith: Medieval           Kingdom HD, p. 15
Super Mario Bros. U*, p. 16
Tagamoto Road Set, p. 21
Tank! Tank! Tank!, p. 21
Toy Story Mania!, p. 21
Transformers Prime: The Game, p. 21
Victorious: Taking the Lead, p. 16
War Horse*, p. 17
Welcome to the Vampire's Lair…If Your Dare!*, p. 17
Windows Surface, p. 22
Word Pig, p. 22
Zimmiz, p. 22