About  the size of a bar of soap and powered by 6 AA batteries, the controller comes with the promise of smarter, faster, more sophisticated DYI robots. built out of (no surprise) snap-together LEGO parts. A new app component makes it possible to use your smartphone or tablet to dole out instructions, or control your robot using a bluetooth connection.
The EV3 is part of a kit consisting of sensors, wires, gears, motors and apps. The price doesn't include a Mac or Windows computer, used to write programs using a the Scratch-like programming language.
The concept represents the continuation of the philosophical marriage between Lego and the similarly named programming language, Lego that started about 30 years ago when LEGO's Kjeld Kirk Kristiansen contacted MIT's Seymour Papert following the publication of his book Mindstorms. At the time, Papert was a leading proponent of the use Turtle programming to further the constructivist learning agenda.
This conversation led to the 1988 release of an "intelligent brick" designed to "bring LEGO creations to life via computer programming" (according to a 2012 LEGO press release).
In 1998, a mainstream edition of the controller brick was released, called LEGO Mindstorms RCX; a highly regarded product by our testers. The Mindstorms concept started became stale, however, and other DIY programming options started to come to market.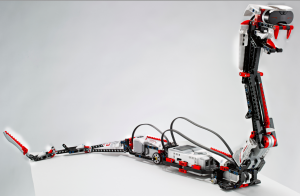 LEGO MINDSTORMS EV3 is an attempt to add some new power and spice to an old idea. Besides more raw computing power (a Linux-based ARM9 processor, with 16 MB of memory plus 64 MB of storage that is quite a stop up from the original 512K), there are also ports for SD expansion and a USB connection to a Mac or Windows computer.
The EV3 can control up to eight components by way of  four input ports and four output ports. In addition, there are speakers, bluetooth, and the ability to work with either iOS or Android tablets.
The starter kit includes Servo motors a touch sensor, and an IR "seaker sensor" that can measure instance or detect objects. There's an IR Beacon that can remotely control the robot from up to 6 feet away, and a color sensor, so you could make a robot with the ability to, say, follow a red line. The new kit is backward compatibility with LEGO Mindstorms NXT and 594 LEGO TECHNIC elements, and the programming software is  PC and Mac compatible, with icon-based drag and drop environment for "building" programs with new interactive content that helps de-bug programming. The screen I saw reminded me of Scratch.
LEGO has also attempted to make your out of the box experience a little less intimidating, with instructions for building 17 robots that will work within 20 minutes. The kits can work with LEGO Technic pieces, additional motors or sensors to change the functionality of the robot.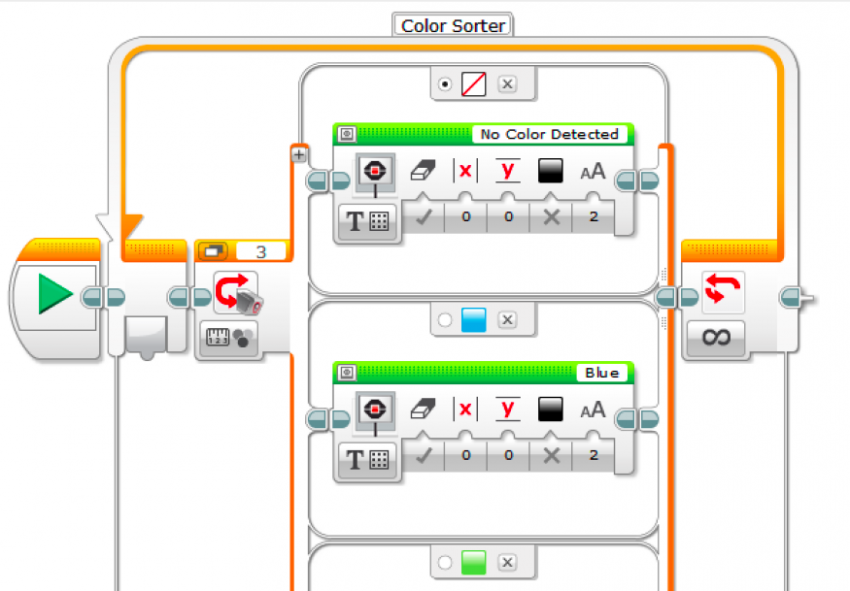 A "mission pad" can be used in a series of obstacle courses, an app that provides 3D building instructions, through collaboration with Autodesk. The new 3D instructions app allows builders to zoom in and rotate each step in the building process, making it easier than ever to assemble even the most sophisticated robot. LEGO MINDSTORMS EV3 are scheduled to be in stores "in the second half of 2013."