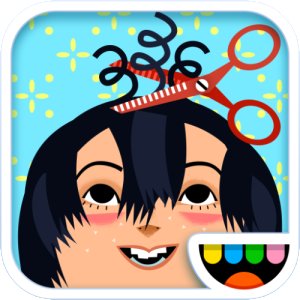 This is an important announcement, because it is the first non-iOS Toca Boca app, that we know of. Here's the text of the press release:
TOCA BOCA RELEASES TOCA HAIR SALON 2 ON iOS AND KINDLE FIRE
Sequel to Company's Best-Selling Digital Toy App Debuts Curls Based on Feedback from Fans Worldwide; Downloads Across Toca Boca Digital Toy Box Surpasses 20 Million
Answering the call of fans worldwide, Toca Boca, the leading digital toy app developer, has released Toca Hair Salon 2 debuting curls and crimps as well as more hair color combinations and an array of new styling tools. Toca Hair Salon 2 builds on the fun of the wildly popular Toca Hair Salon app that anchored the company's momentum to surpass more than 20 million downloads across its digital toy box. Toca Hair Salon 2 is available now on iOS devices as well as Kindle Fire, a platform that continues to grow in popularity among families and a first for Toca Boca.
Toca Hair Salon 2 features four new characters that send young stylists on an "anything goes" adventure of cutting, coloring and styling. New tools such as a razor, curling iron, crimper and straightener plus enhanced color spray effects and new accessories from hats to glasses takes hairstyling to a new level of zany fun. Whether trimming an unruly moustache, spraying a newly shaped mohawk pink, or giving a gal the curls she always wanted, Toca Hair Salon 2 ignites kids' imagination and creativity in a big way.
In addition to its wide array of new features, Toca Hair Salon 2 also includes enhanced carry-over fun from the original Toca Hair Salon such as the ability to: cut and trim hair with scissors or electric trimmer; shampoo hair in the shower and towel dry; use the hairdryer to achieve the right look; grow hair back with the magic G.R.O.W. potion; select from nine hair colors; and add finishing touches with whimsical accessories.
Toca Hair Salon 2 carries a limited-time launch price of $0.99 for iOS and Kindle Fire platforms.
To download, go to: http://bit.ly/ths2_apple or
http://bit.ly/ths2_kindle. To view the Toca Hair Salon 2 trailer, go to http://tocaboca.com.
In other Toca Boca news, the company is offering a limited-time free download of Toca Band!
# # #