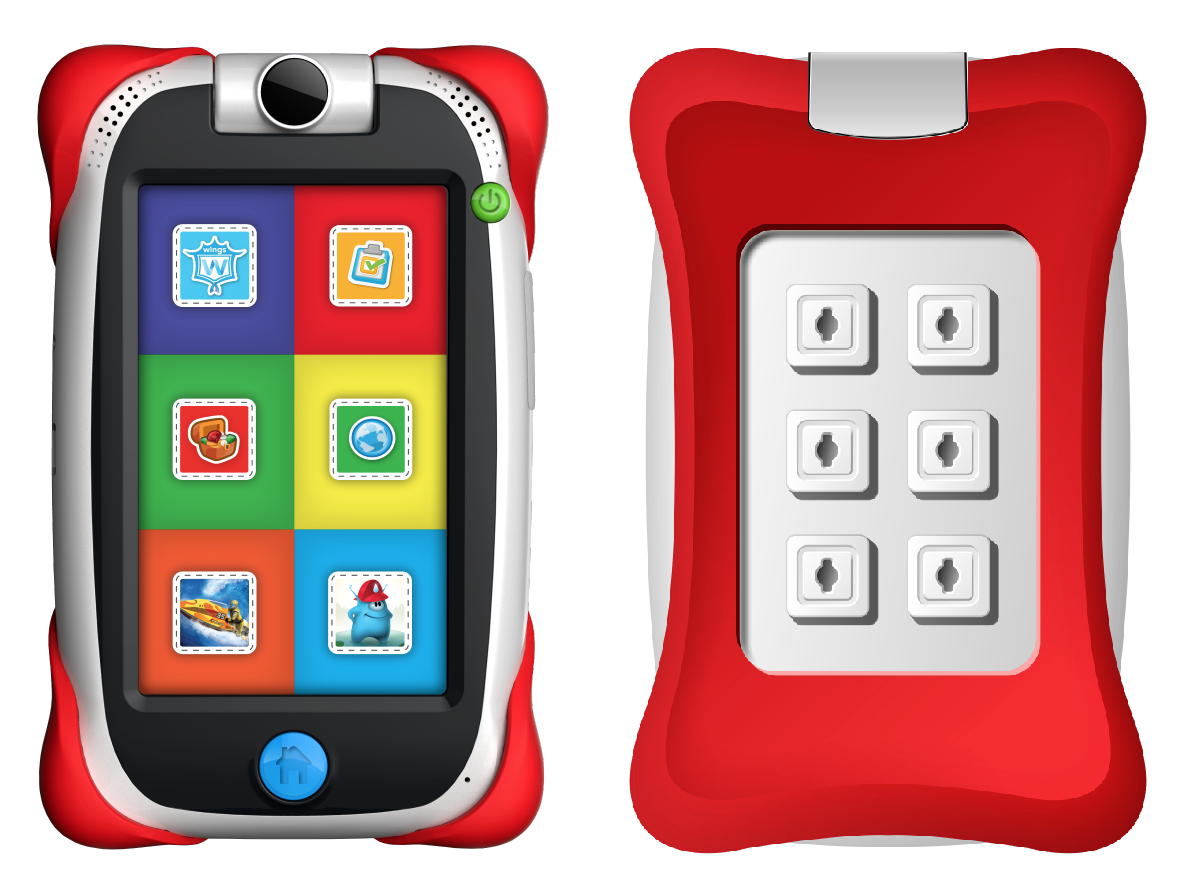 Nabi Jr. is a $99 Android tablet with 5-inch (800×480) capacitive touch that serves double duty as a baby monitor and a karaoke machine. It runs Android ICS. The tablet comes pre-loaded with educational apps, games, and videos and, like the InnoTab 2, has a single rotating front and back camera. Fuhu brags: "No cartridges; no AA batteries."
Onboard software includes  Wings Education System, not to be confused with the similarly-named Wings curriculum.  This "adaptive system keeps records" and "creates individualized lesson plans based on your child's proficiency across over 2,500 fundamentals in reading, writing and math."  Other features include and "N-Site Reports" with progress reporting.
Like the larger Nabi 2, the Jr. version is hardwired into an exclusive Android  app store, but Fuhu has promised the ability to "side-load the Amazon app store." If so, this could be a major advantage.
A BABY MONITOR? There are other peripherals, and this is where things get interesting. Fuhu is selling add-ons that can convert the Nabi Jr. into other things. An infrared night vision camera has a remote zoom. After you register the device and sync to the "Nabi Cloud" you can use a second Android phone to have your own video baby monitor, with a microphone for two-way communication. Other baby monitor features include a room temperature display, a sound level indicator and a low-battery alert. The Karaoke Machine can plug into a big screen with the HDMI port (cable not included). Other add-ons include a talking toy cash register with play money (transactions are tracked on the tablet screen, and play money lets children use "real" bills and coins); a game controller and nabi Pet, an "interactive toy that kids can name and raise by feeding it, walking it, playing with it."  The nabi Jr. will be available mid-December for $99 for the 4GB model and $129 for the 16GB model.  Accessories will be available in February 2013.
CORRECTION December 4 9:13 EST: In a previous version of this post, we mistakenly referenced the Singapore Wings curriculum and the "Wings" used in this tablet. There is no connection.